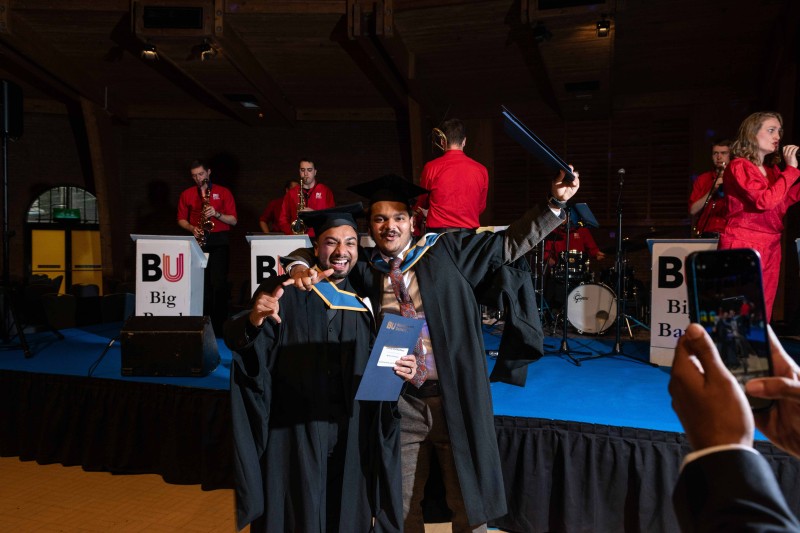 Nearly 5000 students have graduated from Bournemouth University in a series of ceremonies at the Bournemouth International Centre over the last week.
The new graduates were rewarded after years of late night study sessions and personal sacrifices as they crossed to stage to collect their certificates in front of their friends and family who packed out the Windsor Hall.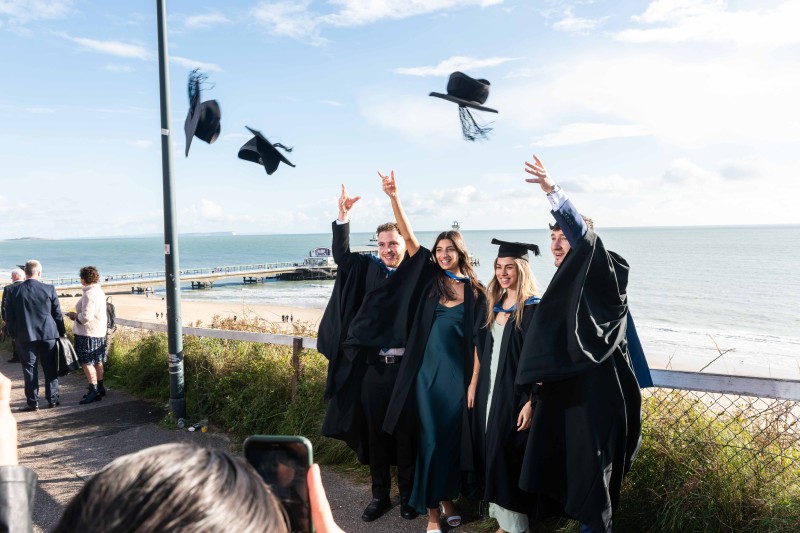 In a reflection of the international flavour of Bournemouth the ceremonies were live-streamed around the world and watched in over 100 countries across all continents.
Among those celebrating were married couple Kirsty and Ian Young who graduated together from the same law course. After their ceremony, which was attended by their four children, Ian said, "Kirsty and I have always done things together. We found as we studied, we had each other to talk to so, in that respect, we were lucky to bounce off one another. Although, we did set some ground rules when it came to assignments – such as no copying – and we only read each other's work after the final draft." 
Professor John Vinney, Vice-Chancellor of Bournemouth University said, "Congratulations to all our graduating students. I wish you the best for the future. Have a fantastic career and have fun."
The university also made nine honorary awards to people who have succeeded against the odds, made an impact on lives of disadvantaged people and helped people live healthy, more sustainable lives.
Poppy Cleall (Doctor of Arts) – England Rugby Union International from Ringwood.
James Rose (Doctor of Music) –Director of the world's first, disabled-led musical ensemble at Bournemouth Symphony Orchestra - BSO Resound.
Max McMurdo (Doctor of Arts) – BU graduate, TV presenter and entrepreneur.
Minnette Batters (Doctor of Science) – President of the National Farmers Union.
Kwilole Chisuse-van der Boom (Doctor of Business Administration) – Chair of the Funsani charity providing a home and education to orphaned children in Zambia
Martin Edwards (Doctor of Business Administration) – Chief Executive of Julia's House children's hospice.
Jeannette Lang (Doctor of Law) – Former BU board member.
Debbie Fleming (Doctor of Business Administration) – Former Chief Executive of University Hospitals Dorset.
Sam Crowe (Doctor of Science) – Director of Public Health for Dorset.
Addressing the graduates in her ceremony, Poppy Cleall said, "As a rugby player I know all about importance of responsibility. Life, like rugby, is filled with challenges, set backs and moments of triumph. Your journey has just begun, and I have no doubt that you will continue to achieve great things."
James Rose said, "Today is a day to celebrate because it marks the culmination of academic achievement and the personal sacrifices. Whatever your next step is, take it with the belief it deserves and be authentic in whatever you go on to do.
"Always expect people to doubt you and say, 'no you can't do this, this won't work', and just don't let that stop you from doing what you want to do."
Debbie Fleming paid tribute to the Health and Social Science students in the hall, many of whom undertook placements at University Hospitals Dorset as part of their courses. "It makes me feel incredibly proud to think that we are supporting the next generation of people who will be delivering care in the NHS. I also want to say an enormous thank you because every single one of them will have contributed and made a difference each day to care in those hospitals and outside in the community."