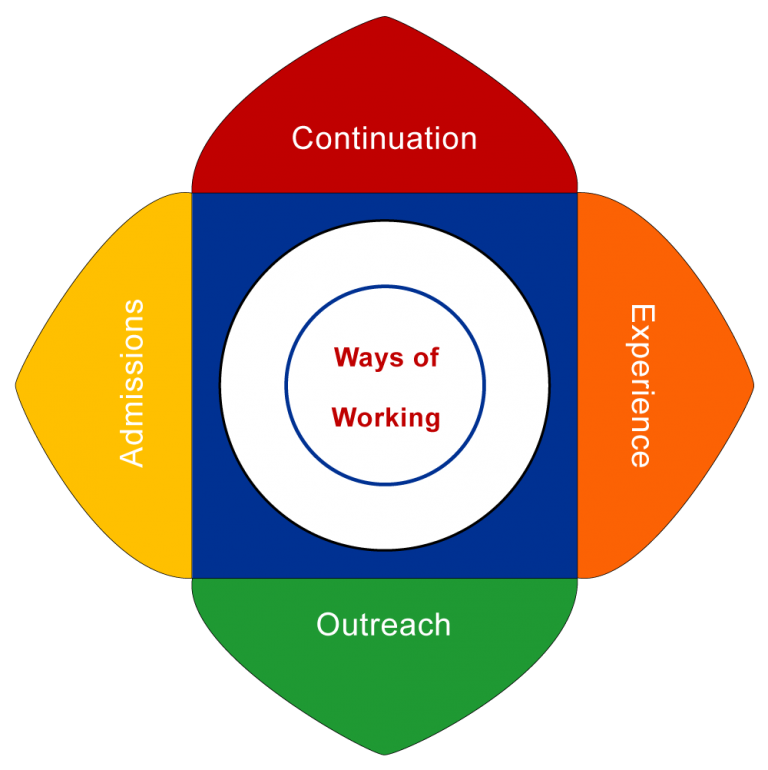 Outreach is one of five themes in the Fair Access Research Project (FAR), BU's innovative approach to widening participation and breaking down barriers to make higher education more inclusive.
Within this theme, we examine three questions:
What does fair access (or widening participation) look like beyond the university?
What are the most effective ways of supporting it?
How can existing research on outreach assist?
Our research in this area comprises a number of projects under the FAR umbrella. On this page, you can explore these projects, detailing how our research investigates responses to outreach and the illustration of best practice.
---
How do widening participation students react to university outreach?
Researchers from the FAR project team collaborated on the organisation of an Office for Fair Access (OFFA) two-day symposium, evaluating outreach at the University of Warwick. Entitled 'Evaluating Outreach: Methods, Praxis, Standpoints and Policy', it focused on a common purpose of building collaborative links and understanding the politics and differences that exist across the sector.
Commissioned by the OFFA and the University of Warwick, BU researchers from the FAR programme joined a steering committee, the aims of which were: to be reflexive of current practices; to promote dialogue and further the development of a community of academics and sector professionals interested in developing initiatives; collaborative working; building expertise in the evaluation of outreach and to challenge existing outreach evaluation methodologies.
The symposium informed the development of a call for research in the evaluation of outreach funded by OFFA.
---
Widening Participation in Higher Education: An exploration of the aspirations of young people living in low participation neighbourhoods
The research of Ed Bickle, one of the PhD students supported by the FAR project, aims to explore, through an interpretive phenomenological analysis, the aspirations of young people living in Low Participation Neighbourhoods (LPN).
As part of the policy of widening participation, higher education institutions are required to provide effective, targeted outreach programmes to raise the aspirations of certain groups of young people to aspire to higher education. This is based on a deficit approach within policy that suggests that it is low aspiration that often holds many young people back. Whilst research suggests that these outreach programmes are successful at raising aspirations, there is a lack of interpretative research approaches that examine aspiration as a construct of everyday lived experience.
Using Interpretative Phenomenological Analysis as a research approach, a series of interviews were conducted with students across Years 9 and 10. The students all lived in Low Participation Neighbourhoods and attended the same secondary school in the south of England. The interviews explored experiences, perceptions and reflections on their current life and possible future selves.
Through the creation of three super-ordinate themes: 'Empowerment'; 'Familiarity' and; 'Broadening Horizons', the study found that the participants do not lack aspiration, indeed they all have some form of aspiration towards higher education as well as aspiring to 'middle-class' professions. The study found that these aspirations are firmly set within the contexts of their individual lives and experiences and that the young people attach a worth to certain aspirations which makes them, in the context of their lives, seem realistic and desirable.
The implications of this study are that it should be recognised that aspirations in young people are based on what happens to them in their own everyday world. It, therefore, creates possibilities to develop outreach programmes that recognise and encompass the wider everyday experiences of these young people. This would provide a more nuanced and bespoke approach to supporting young people in embracing and nurturing their aspirations, as opposed to a primary focus on 'raising' aspirations towards higher education. If their 'capacity' to aspire can be increased, then ultimately the young people will feel empowered and confident in deciding whether higher education is for them, so that one day they may become exactly what they once dreamed of becoming.
---
Which method do you use to review research on the impact of outreach?
A research approach paper, developed by the FAR team at BU and the University of Liverpool in conjunction with the Office for Fair Access (OFFA), outlines how to undertake a systematic review of widening participation research.
Recent guidelines from OFFA called for institutions to take an increasingly collaborative and evidence-led approach, in response to the lack of evidence base surrounding many widening participation (WP) initiatives. Undertaking systematic reviews is a process which enables researchers and practitioners to scope and evaluate a wide range of studies in an accessible and rigorous way, enabling them to have a much broader overview of robust research and to utilise this to develop their WP practices. However systematic reviews are relatively new in the field of education having largely been utilised in the health care field.
OFFA Research Note - Systematic Reviews: Making Sense of Research
For further information please contact Dr Vanessa Heaslip.
---
Supporting educational attainment, progression and aspiration of young, white disadvantaged males: an action research project
Only around 10% of the most disadvantaged white British Males progress to Higher Education (HE), which is significantly less than disadvantaged males from other ethnic backgrounds. Whilst the issues impacting upon disadvantaged white males entering HE is multi-faceted, one of the main facets is an attainment gap at GCSE levels in compulsory education.
In order to explore this further Dr Heaslip, Dr Hunt and Karen Cooper worked with two local secondary schools and one middle school. The research team undertook nine focus groups with boys in years 6, 7, 8, 9 and 10, aged between 10 to 14 years of age (n=85), as well as two focus groups with parents (n=15) and 2 focus groups with staff across the two schools (n=16). Following thematic analysis of the data, the following themes were identified:
Impact of family experience
Societal gender expectations
Education
Careers
To find out more about this project, read the full report.