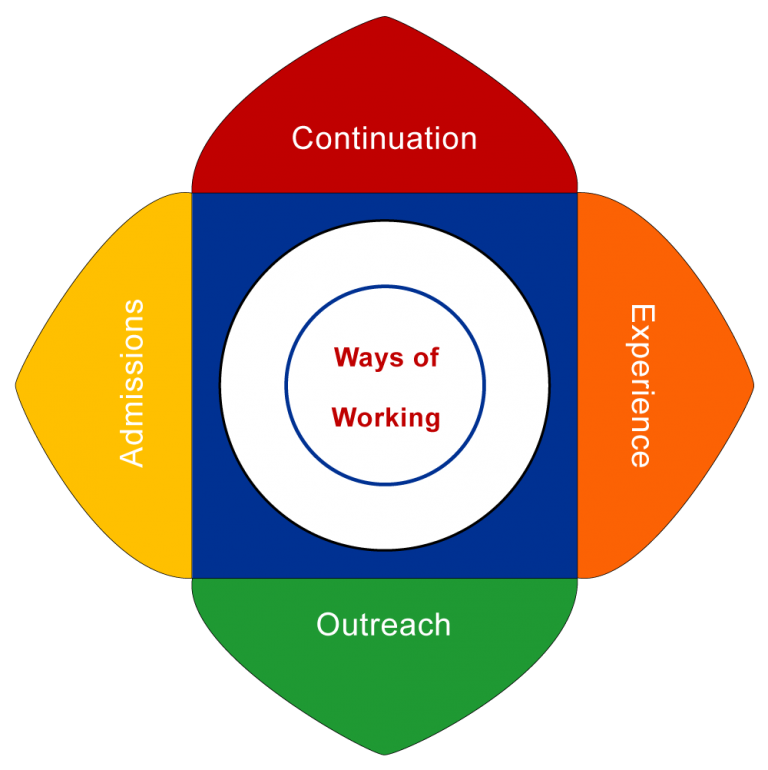 Continuation is one of five themes in the Fair Access Research Project (FAR), BU's innovative approach to widening participation and breaking down barriers to make higher education more inclusive.
The questions we are tackling within this theme include:
How does a widening participation (WP) background impact upon retention at BU?
How can students be supported in their learning and development whilst at university? 
How do universities support students to be successful in their studies?
Our research in this area comprises a number of projects under the FAR umbrella. On this page you can explore these projects, detailing how academic staff and graduate students have been investigating the value of university support in aiding retention and the experience of students who persist and succeed.
Aspiring, persisting and succeeding – PhD studentships in widening participation
Two BU PhD studentships have been funded by the Bournemouth University Fair Access project. You can read more about each of these projects, exploring different elements of WP, below.
---
The Experience of University Students from Low-income Backgrounds: an Interpretative Phenomenological Analysis of Resilience, Lizzie Gauntlett
Lizzie's PhD studentship offers insights into the processes that enhance student success after entry to higher education. Her research explores the phenomenon of resilience through the experience of low-income students.
The focus on resilience is part of a positive psychology model that can be used to listen to those 'quiet voices' which tell us about the everyday experience for these students. The research uses a qualitative methodology known as Interpretative Phenomenological Analysis (IPA).
Listening to the voices of students who are persisting and succeeding provides rich, qualitative data to elucidate complex, situated processes. Semi-structured, in-depth individual interviews were conducted with these participants in winter 2015.
Initial analysis of the data suggests an important role for familial, social and institutional factors, alongside more dispositional traits typically associated with resilience.
Three superodinate themes were identified:
Facticity and positive social orientation which explores how participants viewed adversity as a meaningful opportunity for growth
Living authentically amongst others in which participants used insight about their strengths and weaknesses to negotiate their way through the new social world of university
Building social confidence which identified ways in which participants became tougher and gained support from others
In addition, students identified strong academic identities characterised by goal-focused behaviour, enjoyment of competition with peers and the presence of positive relationships with at least one tutor.
The findings offer an alternative, insider perspective on academic resilience to that presented in the existing literature. Analysis suggests that a key strategy for universities may be enabling students' social relationships through informal and formal strategies such as peer-learning programmes. Subject-related and professional values can also be promoted through teaching and learning activities which enhance engagement and belonging. Staff should deepen their understanding of coping strategies developed by resilient students, particularly those with learning difficulties, recognising them as mechanisms for enhancing success.
---
Widening Participation in Higher Education: An exploration of the aspirations of young people living in low participation neighbourhoods, Ed Bickle
Ed's PhD explores the aspirations of young people living in areas with low levels of progression to higher education and how these aspirations are shaped by their everyday lived experiences. His research aims to explore, through an interpretive phenomenological analysis, the aspirations of young people living in Low Participation Neighbourhoods (LPN).
The two key research questions are:
What are the aspirations of young people living in LPNs?
How are these aspirations shaped by their lived experience?
In uncertain times within the HE sector there is a growing need for more evidence-based practice, particularly within outreach where there is an increased emphasis on institutions to provide effective targeted programmes to raise the aspirations of young people to aspire to HE.
In using Interpretative Phenomenological Analysis as a research approach, the study aimed to explore aspiration from a fresh perspective, one that gives voice to young people and strips away prior assumptions and stereotypes.
Analysis suggests that the young people in this study do not lack aspiration (as is often implied in policy); all have some form of aspiration to progress into HE, are generally optimistic about their futures and are actively seeking to become aspirational citizens. Whilst many of their aspirations, particularly career-wise, could be described as 'lofty ambitions', these aspirations are firmly set within the contexts of their individual lives and experiences.
Through the emergence of three themes: empowerment; familiarity; and broadening horizons, the thesis critiques the ways in which everyday experiences not only create means by which to become aspirational but how these experiences also help to develop, support and, at times, restrict aspirations.
You can contact Ed at [email protected]
Project papers and resources
---
Further FAR continuation projects
In addition to our PhD students' work, the following projects explore further elements of retention and the ongoing experience in higher education.
Does WP background impact upon retention at BU?
How Access Agreements engage with research to support BAME student success: Getting out of the Gap
Optimising the impact of university financial support to students
Students' Union Partnerships for Widening Participation