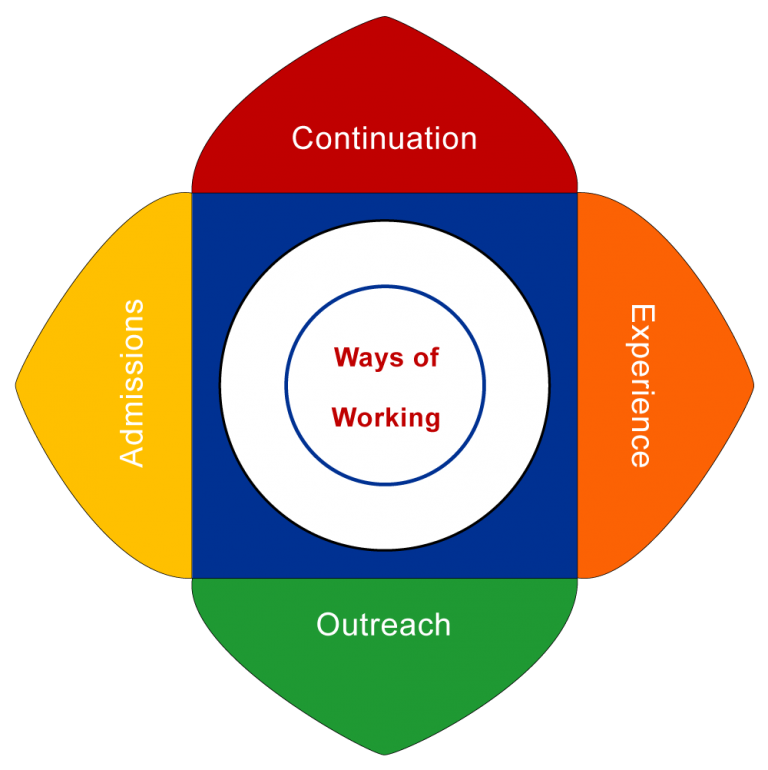 Ways of Working is one of five themes in the Fair Access Research Project (FAR), BU's innovative approach to widening participation and breaking down barriers to make higher education more inclusive.
Within this theme, we look at questions such as:
What are the benefits of cross-disciplinary and cross-professional research in widening participation (WP)?
How can this inform a whole institution approach to WP? 
What does the student voice bring to understandings of the WP experience across the whole student journey?
Our research in this area comprises a number of projects under the FAR umbrella. On this page, you can explore these projects and novel ways of working, including student co-construction and institution-wide approaches to enhancing WP practice.
---
Students' Union Partnerships for Widening Participation
A free online resource
The aim of this project, driven by Bournemouth University Students' Union (SUBU) within the FAR project, was to establish the best ways to build and sustain partnerships with Students' Unions for widening participation and to develop an online resource with educational technologists to share these findings across the sector.   The online resource aims to support those in the HE sector to build stronger research partnerships, working and learning together for WP research, policy and practice.
Representatives from Students' Unions and JISC piloted the draft resource at a toolbox event in July 2016, to assist development. The team then met with OFFA and the National Union of Students (NUS), HEIs, JISC and 'Action on Access' in November 2016 to share the draft work, covering the following areas:
Why partnerships matter
Building partnerships
Why Research Matters?
Doing research

Reflective practice
Sharing your work
Your voice
Useful resources
BU CEL Blog: Partnerships of widening participation: Students' Unions 
For further information please contact Jane de Vekey or Dr Sue Eccles.
---
Organisational Learning and Widening Participation 
Dr Maggie Hutchings and Dr Alex Wardrop from the FAR team explored the role of widening participation in the organisational learning of institutions and how that learning is (or is not) retained and shared. An online questionnaire circulated to UK HEIs was followed by case studies investigating widening participation policy and practice in selected UK HEIs.
The two research questions considered were:
How do universities respond to widening participation?
How is widening participation learnt within different institutions?
A two-stage mixed method appreciative inquiry was conducted using an online survey of HEIs in the UK, complemented by two case studies, to investigate widening participation policy and practice in post-1992 and Russell Group universities.
Findings from our analysis were presented at the international SRHE conference in December 2016, identifying key trends and themes concerning knowledge management and organisational memory, opportunities for learning together, and the identification of organisational learning mechanisms for 'doing' widening participation.
We have developed a theoretical schema for recognising different degrees of organisational learning engagement with widening participation based on the nature, extent, consistency and integration of organisational learning mechanisms. Results from the analysis will contribute to the development of a credible and replicable model for effective working and provide recommendations to inform BU and HE sector policies and processes, promoting knowledge exchange and stimulating a focus on whole-institution approaches for widening participation.
Conference paper and media
---
Supported Leadership: Enhancing the academic success and employability of WP students
Funding from the BU Fair Access Management Group has enabled a collaborative project between SUBU and the Centre for Excellence in Learning (CEL). It aimed to break down some of the barriers to WP student success through a more holistic student experience. WP students who currently hold a leadership role within a SUBU club or society have been offered an intensive, bespoke leadership programme. The programme provides these students with an in-depth understanding of contemporary leadership issues and leads to Chartered Management Institute recognition. In addition, it enhances and develops their leadership and social skills, self-awareness and self-confidence.
We know from research (e.g. Futuretrack HECSU, 2012) that students who engage in student leadership roles are more likely to progress into graduate employment but that there is currently a lack of involvement from students from lower socio-economic backgrounds, which this project sought to redress. SUBU has found that students' engagement with and leadership of SU activities bridges these areas. Specific characteristics for societies and clubs include being student-led, academically and Union supported, independent, linked to relevant employment, and open to all. The leadership programmes provide these WP students with the opportunity to develop their leadership abilities – one important and transferable means of breaking down some of the barriers to success outlined in Mountford-Zimdars et al. (2015)
Through interviews and focus groups during and after the leadership programme, an understanding of the lives, perceptions, aspirations and experiences of these students and how the leadership programme contributes to their personal, social, academic and professional development emerged. This project is a means of addressing differential student outcomes and also strengthens the partnership between SUBU and CEL.
For further information please contact Dr Sue Eccles
---
BU Admissions Guidance for Widening Participation
Students with the real potential to succeed in higher education need to have an equal opportunity to come to university, whatever their background or life experience.  Admissions have a key role in enabling this as well as building the reputation and credibility of the university. The FAR team worked with BU colleagues to develop a guidance document to support admissions staff when they are considering admissions of WP students.
Read the WP Admissions Guidance
For further information please contact Dr Vanessa Heaslip
---
BU Academic Advisers Guidance for Widening Participation
One of the key findings from a FAR staff survey was that Academic Advisers play a vital role in supporting members of staff to support students. The FAR team worked with BU colleagues to develop a guidance document to support Academic Advisers when they are working with WP students. This guidance has been disseminated and embedded within the Faculties for their general use.
Read the WP Guidance for Academic Advisers
For further information please contact Dr Vanessa Heaslip
---
Visible Students/Invisible Needs
Students and staff engage in debates and participate in collaborative activities to highlight frequently unseen/unheard student narratives, with the aim of collectively working to make higher education a more equitable experience for students and staff.
Presentation, posters and resources
---
Widening Participation and Working Together: a workshop held as part of the Festival of Learning at BU 
As part of the BU Festival of Learning community engagement, the FAR team facilitated a workshop exploring educational barriers some young people face and grassroots solutions to these.
Professionals and practitioners working to support young people around issues of education inequality were invited to share experiences and knowledge to find sustainable approaches to these educational challenges.
Blog: What are the challenges and opportunities for disadvantaged students to access education in the region?
For further information please contact Dr Vanessa Heaslip
---
FAR briefings
In reaching out to as wide an audience as possible, the FAR briefings provide a summary on research and best practice in WP. The intention is that these summaries will be of value and interest across the HE and FE sector with a view to informing individuals and departments in supporting widening participation practice and policy.
---
Troubling Ideas: How HEIs in England engage with research
Members of the FAR team recently explored, in a published article, how higher education institutions in England engage with research in their access agreements. Through an analysis of access agreements from 2014-15 to 2016-17, a picture of how research is understood, undertaken and documented emerges.
Wardrop, A., Hutchings, M., Collins, B., Heaslip, V., Eccles, S., Hunt, C., Pritchard, C., 2016.  Troubling ideas: how HEIs in England engage with research in their access agreements.  Journal of Widening Participation and Lifelong Learning, 18 (2), 84-110.
http://www.ingentaconnect.com/content/openu/jwpll/2016/00000018/00000002/art00005
For further information please contact Dr Maggie Hutchings.