Journalism alumni now working for some of the UK's leading media outlets returned to BU this week to advise and inspire the next generation.
Journalism Careers Forum 2019 group
Eleven industry professionals - from outlets including The Guardian, Daily Mail, BBC and ITN - attended the Journalism Careers Forum. The event was designed to support final year undergraduate and postgraduate multimedia journalism students as they prepare for employment.
Among the alumni returning to offer advice was Mark Briggs, who joined Sky Sports News' graduate scheme after completing his studies last year.
Mark said: "BU prepared me really well for what I am doing now. The Sky Sports News' graduate scheme is incredibly competitive, but I want to show people that with the right mix of experience and skills it is possible to succeed. I attended this event last year as a student, feeling slightly daunted about what I was going to do next. I hope that by coming back I can motivate this year's students and also pass on advice to anyone wanting to follow a sports specialism."
Fellow panellist Abi Simpson, who graduated in 2017 and works as a broadcast journalist for Celador Radio said: "The news days we had at BU were excellent and fully reflect my daily life now as a broadcast journalist. I also valued the connections we had with staff who had worked in industry and the visiting speakers. I used to get so much out of events like these when I was a student that I wanted to come back and support them as a graduate."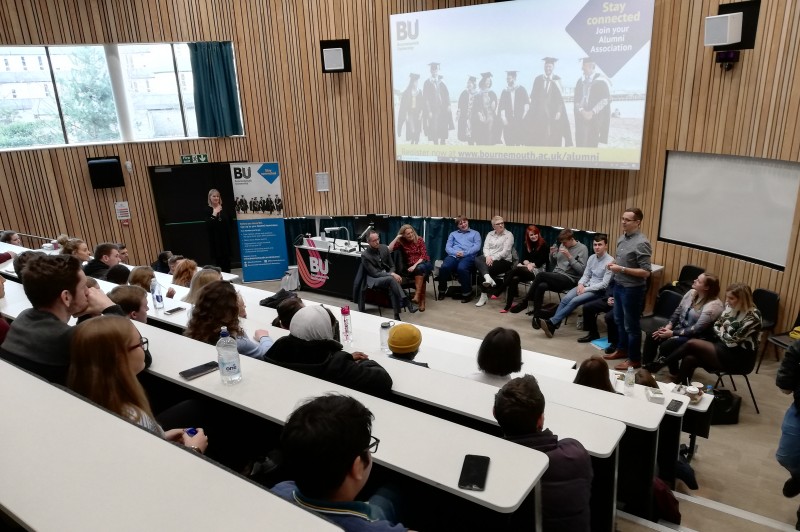 Panellists outlined their own career journeys - encompassing broadcast journalism, media production, sub editing for newspapers and features writing - before moving into a networking session and an opportunity to promote graduate schemes.
Key messages from the speakers included the importance of industry experience, building a network of contacts and being flexible and open to opportunities. Many speakers also recommended entering local or regional news channels as a first step to building a successful career. 
Neil Perry, who graduated in 2004 and is now Visual News Manager for Archant media group, said: "I love to come back because I genuinely want to give back. BU set me up for a career which I thoroughly enjoy and I want to give new graduates the same opportunities and support which I received. My job didn't exist when I graduated, so I also hope to show students that it pays to be flexible and embrace opportunities when they arise."
Two alumni, who now teach at BU whilst continuing to work as journalists, helped to host the event - Miriam Phillips, Lecturer in Journalism who worked for Newsquest and Sarah Farmer, who teaches radio and television journalism when she's not presenting on BBC South.
The visiting alumni all mentioned how important it was to be taught by practitioners who remain current in industry, whilst sharing their experience in the classroom. 
Senior Principal Academic in Journalism, Dr Karen Fowler-Watt who organised the event and who has taught multimedia journalism at BU for 20 years said: "I really enjoyed welcoming back such an impressive group of former students and industry speakers to inspire the next generation of journalists, who will hopefully leave BU in a few months' time feeling confident that they can achieve their goals. I believe that the future of journalism is in very safe hands!"