Two multimedia journalism alumni have been named among the winners at the UK's largest commercial radio awards.
Dave Wheeler won Student Journalist of the Year at the IRN Awards, for a project he completed for his MA Multimedia Journalism course last year, while Sam Thomson won Newsreader of the Year.
Sam graduated from BU's BA (Hons) Multimedia Journalism degree in 2013 and now works as a news reader and editor for Global radio stations in Yorkshire and the North East.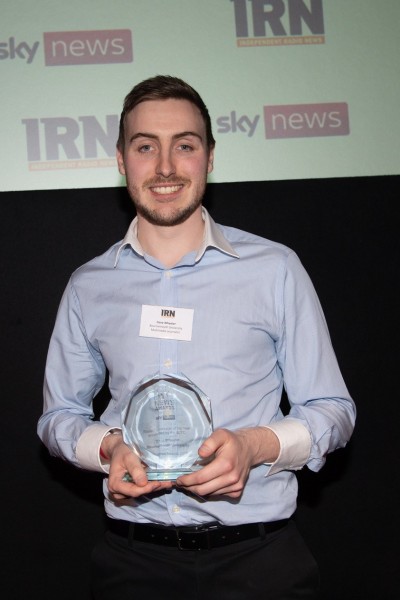 Dave Wheeler with IRN Award
The judges commented that Dave's entry showcased a "clever use of audio (which was a) gripping listen from start to finish". Dave, who now works for VICE, said: "I submitted my final MA project, which was a radio documentary about a young person's experience of bereavement and grief.
"I chose to tackle this subject having gone through the ordeal of bereavement myself when my father passed away while I was on the course. It feels incredibly strange to even suggest, but I feel like my dad helped me win this coveted award as well as to pass my MA with distinction.
"What I experienced through the grieving process is what inspired me to make this piece, and knowing that it has gone on to move so many listeners and earn a number of accolades is a wonderful feeling."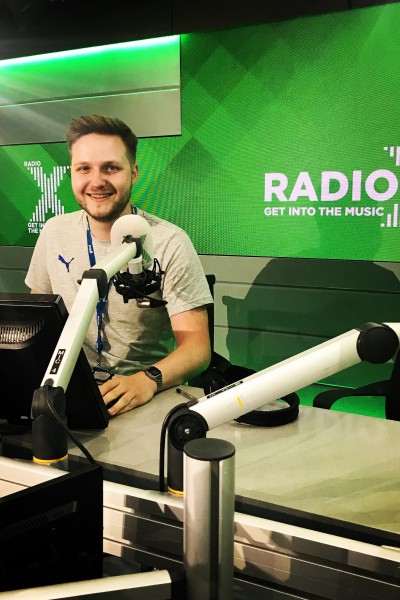 Commenting on his award win, Sam said: "The IRN Awards are the biggest in commercial radio so to even be nominated is a huge accolade. I didn't expect to win, particularly given that the category included newsreaders from national stations based on listener figures.
"News reading styles can be very personal, so it feels like a real validation to be recognised in this way. It is a sign that people like your work and I know that it will help me as I continue to progress in my career."
There was double cause for celebration for Sam, as his team also won the News Team of the Year category. Reflecting on his time at BU, Sam said: "I first joined Global when I did some work experience at Heart while I was still studying. I kept returning and eventually secured a paid position with the news team in Bristol. The creative and technical skills I developed on my degree – even down to using the same newsroom software - meant that I could hit the ground running in the studio, which was so important.
"Newsrooms are such exciting environments to work in that the last five years have just flown by. I feel fortunate to work in an area where there are so many big stories to cover, and to work for a station which encourages you to be creative in the way that you deliver the news. I think this is what stood out to the IRN judges."
The awards were made based on footage submitted by news teams and individuals from the last year. The IRN Awards recognise the achievements of news teams and individuals who serve commercial radio's audience of more than 35 million per week. Sky News presenter Kay Burley hosted the event at the Sky Cinema in west London.
Commenting on the awards, IRN and Sky News Radio Editor Dave Terris said: "Commercial radio news teams continue to push the boundaries with the strength, depth and quality of their coverage. The winners have demonstrated a passion for original journalism, highly engaging campaigns, thoughtful storytelling and imaginative treatments all for the benefit of millions of listeners.
"The standard of entries was exceptional and proved yet again that journalists across the network are in tune with the stories their audiences want to hear." 
Find out more about studying media and communication courses at Bournemouth University