Children's mental health charity stormbreak has launched an online challenge to encourage families to introduce mentally healthy movement during the summer holidays.
The charity, which is supported by Bournemouth University, aims to support and nurture children's mental health through movement, with different 'stormbreak' activities focusing on specific areas including resilience, self-care and relationships.
It has launched an online stormbreak@home challenge for children of primary school age to take part in with their families, carers and trusted adults.
The activities are available on-demand through a dedicated website, and live sessions will take place at 10.30am every weekday throughout August. 
BU BA (Hons) Media Production and BA (Hons) Television Production students helped to produce videos on the website demonstrating the different stormbreak activities.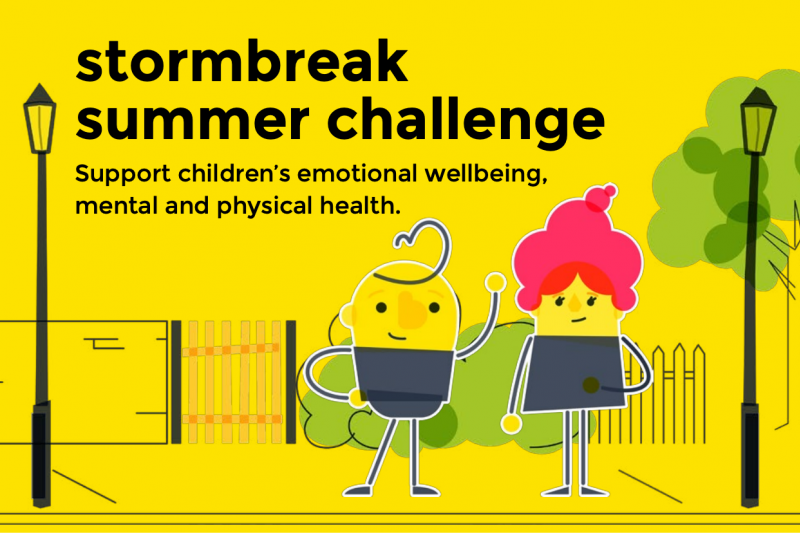 Each 'stormbreak' has been carefully devised by a team of children's movement and mental health experts and is delivered by a trained stormbreak coach.
They each focus on specific areas of child mental health in a gentle and encouraging way, with activities given titles such as Moon & Stars, Monkey Chatter, Lily Pad Leaps and Make Friends With A Creature.
Children can also earn virtual badges and certificates for participating.
Dr Martin Yelling, stormbreak founder, said: "Whether children or adults, many of us instinctively appreciate how moving helps us feel better and supports our emotional and mental health.
"stormbreak takes this one stage further by bringing in mentally healthy movement for children that helps raise awareness of their natural feelings and responses to situations – and crucially also provides strategies to deal with them."
BA (Hons) Television Production student Lauren Francis, who is going into her final year, helped to edit the videos of coaches performing the stormbreak activities for the website. 
She said: "When I heard about the opportunitiy, I knew I had to apply as the charity supports a cause I'm genuinely passionate about -promoting mental health and healthy emotional expresison in children - and editing is a career I'm considering going into. 
"For the past month or so, I've been editing around 1-2 videos per week featuring various coaches and teachers performing stormbreaks. I've been responsible for trimming the clips, adding graphics and enhancing the audio in these videos." 
The stormbreak challenge is supported by BBC Children in Need, A Million and Me, an initiative that seeks to develop support systems around children who are beginning to struggle with their mental health and wellbeing, at home and in the community.
The Covid-19 pandemic and ensuing closure of schools and increased isolation for children and young people has amplified the need to teach mentally healthy coping skills from a young age.
Dr Yelling said: "We were already seeing great progress with our in-school programme in the South West before coronavirus hit. It is amazing how regular, embedded, purposeful movement can support mental health – and that's for all of us, not just children."
"Now, our work is even more important, with many children not having been in school since March and the absence from mixing with their peer groups having a disproportionately harsh effect on those from more deprived socio-economic backgrounds. We hope to reach as many as possible through the summer challenge."
Paddy Sloan, Director of A Million & Me, says: "Engaging children in fun activities that are designed to help them cope with emotional challenges, particularly at this time, is a great way to encourage a positive approach to life and to enable children to feel better about themselves.
"The stormbreak summer challenge will be a fun welcome for all who would like to find out what stormbreak is all about and benefit from the sessions."
stormbreak also receives support from Bournemouth University and the University of Winchester, who are underpinning the project through academic expertise and research to provide evaluation and feedback. 
Find out more and take part in the stormbreak@home challenge