A lecturer from Bournemouth University Business School will take up a crucial role in supporting England's athletes at the 2022 Commonwealth Games in Birmingham later this month. The role will also reunite her with two of her former students who will be competing at the games.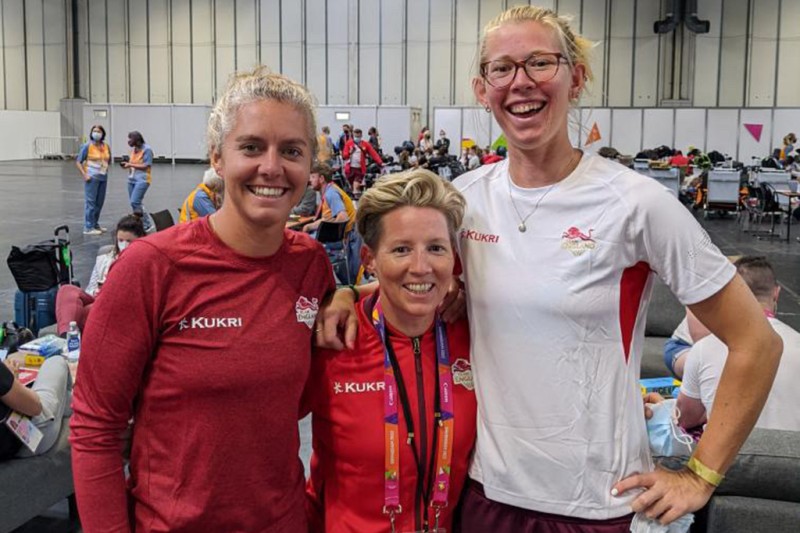 Emma Kavanagh (Centre) welcomes Team England beach volleyball players Jess Grimson (left) and Daisy Mumby (right) to the Games
Dr Emma Kavanagh, Senior Lecturer in Sports Psychology and Coaching Sciences, will be a part of Team England's High Performance Team Support. The team will be responsible for establishing a high-performance environment for all Team England athletes, ensuring a smooth transition into their covid-secure 'bubbles' and making sure that they have everything they need to prepare ahead of their events.
"I will be working in the Welcome Centre which is the first point of contact for all the athletes when they enter the games environment," Emma explained.
Unlike most major games, Birmingham 2022 will be spread over a number of different sites in Birmingham and there will not be one central athletes' village. "Every day we will be welcoming new groups of competitors as they arrive at Team England's game time environment, then supporting them as they move to where they will be training and competing," she continued.
As an accredited sports psychologist Emma has previous experience of working with teams in the build up to major sporting events. She was Team Leader and Sports Psychologist for Team England's beach volleyball teams at the Gold Coast Commonwealth Games in 2018 and provided remote support for Team GB tennis during the 2020 Tokyo Paralympic Games.
"It's really exciting this time because in previous major games I've been attached to one particular team, whereas here I will be helping to support the environment for the whole of Team England. The fact it's a home games makes it even more exciting," Emma said. "It will be a big learning curve for me, it is all about building a high-performance environment for every athlete and we want every one of them to get to the start line where they can perform."
In her previous work with national teams, Emma has recognised the difference that a successful 'team behind the team' makes. "They set the tone so that the competitors and teams around them can turn up and do the job when it matters the most," she said. "Having accompanied specific athletes previously, you do not always see the work that goes on behind the scenes, it is just all there. I need physio support, it's there; I need to book in for medical support, it's there. It always feels seamless. Now I am a part of the team that will make that happen."
Emma welcomes weightlifter and former BU student Noorin Gulam to Team England's Games centre.
Emma's role in Team England will also reunite her with two athletes who she taught when they were students at Bournemouth University, Noorin Gulam and Liam McGarry, who will both compete in Birmingham.
"I was sat in Team England training when the weightlifting team was announced and when I heard the names of people I taught read out, I was extremely proud," she said. "I messaged them straight away to congratulate them."
After the games have finished, Emma believes that her current and future students will also benefit from her experience. "As well as teaching sports psychology, I teach a unit on coaching and athlete welfare. Having this insight, knowing what it is like for athletes and teams competing in major events, will feed directly back into my teaching and provide some great examples for my students to learn from," she concluded.