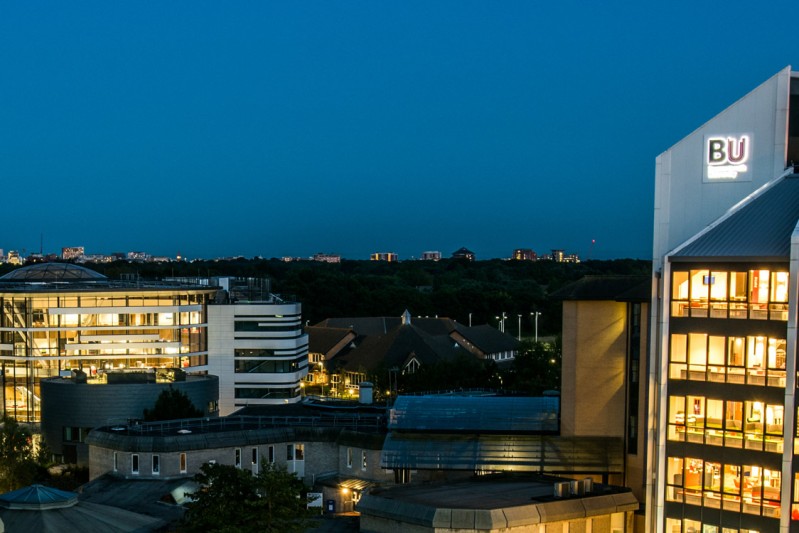 To help you stay safe whilst travelling to and from campus during the darker months we've put together some tips for cyclists and pedestrians. 
Walking
If you're walking to and from campus in the darker hours please ensure that you choose well-lit main routes. Try to plan your route and let someone know your destination and expected arrival time. Avoid wearing headphones so that you can hear what's happening around you and stay alert. Ensure you have appropriate clothing and equipment for the changing weather including waterproof clothing and an umbrella. You can use your BU ID card or Totum card to access discounts at a number of local retailers including Cotswold Outdoors, Go Outdoors and Halfords. There will also be some high visibility active travel items available soon at the SUBU shop.
Cycling
If you're travelling to and from campus it's best to check the weather each day to ensure the route can be taken safely. But the winter doesn't mean you have to stop cycling, you just need to make sure you are prepared and your bike is in good condition. See the information below on our free Bike Doctor service.
Clothing and equipment
Being seen when cycling in the dark is really important, so make sure you have working lights to the front and rear of your bike, and wear high visibility clothing or back pack covers so you can be seen by drivers, pedestrians and other cyclists. 
Being prepared for the changing British weather is key to a more comfortable cycling journey. You can use your BU ID card or Totum card to access discounts at a number of local retailers including Cotswold Outdoors, Go Outdoors and Halfords.
There are also a range of cycling shops in the area where additional safety equipment can be purchased for you and your bike. Check out the SUBU discount pages for more information and visit the SUBU shop on campus for active travel items available soon.
Making sure your bike is in top shape is also really important at this time of year. The conditions on the roads are more unpredictable so why not let our Bike Doctor have a look over your bike free of charge. This year we've introduced extra sessions just for students, along with our regular monthly sessions, check the next dates when the Bike Doctor will be on campus.
Highway Code
 Please be aware of the Highway Code: 
At night your bike MUST have both white front and red rear lights lit 
It MUST also be fitted with a red rear reflector (and amber pedal reflectors, if manufactured after 1/10/1985) 
White front reflectors and spoke reflectors will also help you to be seen 
You should wear reflective clothing and/or accessories (belt, arm or ankle bands) to make yourself more visible in the dark. 
Don't have a bike?
If you would like to cycle but don't have your own bike then don't worry. BU have a number of schemes to help students buy, borrow, or loan a bike at low rates.
BU by Bike Scheme – Short or long term loan bikes available at low prices from local retailer Hope2Cycle. Bikes come with a D-lock and you can purchase helmets, bike lights and other equipment at subsidised prices. Find out more about the BU by Bike scheme.
Beryl bikes and scooters  – Beryl provides communal bikes and scooters located across Bournemouth, Poole and Christchurch. Simply download the app to find a bike or scooter near you. Did you know that all Beryl bikes and scooters are fitted with front and rear lights that come on automatically in low light – one less thing to worry about! Find out more about the Beryl scheme.
More information
See the full BU Travel Plan for how we aim to support sustainable travel at BU and in the wider community.