The following projects were produced by final year students on our BA (Hons) Media Production course.
The Graduate Production Project Unit takes place in the second half of the final year of study and is the largest and most significant unit in the course. You'll be encouraged to create a media project of your choice for a defined client and a specified audience. You may choose to create an artefact that mainly focuses on one medium, for example, a film, a podcast or a mobile app. Or you may choose to create work that uses a mixture of the different types of media and technologies, for example, a multimedia interactive exhibition or a projection mapping event. You will also be assigned a dedicated specialist academic supervisor who will support you for the duration of the project. 
You'll be encouraged to work with real clients and to produce work that can be used as a calling card in the industry but also that positively impacts the world around you. As well as the project itself, your submitted work will also include an external client pitch document, an internal project file and various kinds of 360 campaigns to promote your project, typically consisting of print and social media materials and trailers.
Prix Europa 2019 nominees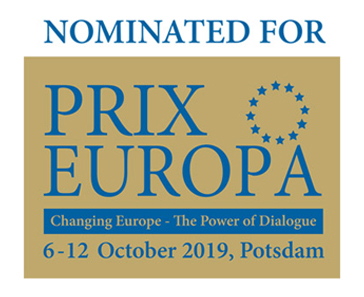 In 2019, two students from Bournemouth University had their final projects shortlisted for the Prix Europa awards. Prix Europa awards the best European television, radio and online productions with the aim of publicising them and supporting their continental distribution and use.
This was the inaugural year that the event – attended by around 1,000 media professionals each year – featured its Digital Media Rising Stars category, specifically for students.
Refracted Mindscape – Matthew Cooper, 2019 graduate
Matthew Cooper's work Refracted Mindscape is a binaural audio installation piece, with visual elements, which explores the complicated mind of someone with multiple personalities and how they live with it day to day.
Inspirare. 
–

 Anna Lozian, 2019 graduate

Anna Lozian's work is a short experimental film in which audio is the main carrier of narrative, with animation and other visuals being secondary. The main themes in the film are inspiration, friendship and choosing one's own path in life and in creativity. 
Charity projects
Visiting Mum - Rachel Kitcat, 2019 graduate
Visiting Mum is an audio-visual installation that is based on a true story. The installation focuses on the struggles of living within a family who are dealing with a terminal illness. The installation involves an audio drama as well as various interactive elements. Visiting Mum is a proud collaboration with Marie Curie and Hangover Hill Recording Studios. Find out more.
Living Positive – Oliver Tunmore, 2019 graduate
Living Positive is a cross-platform, multimedia campaign for the UK's leading HIV and sexual health support charity, the Terrence Higgins Trust (THT). The campaign's main components were three short documentary films, an online campaign (and relevant promotional materials) and two events – a university talk and a launch event in Brighton attended by (amongst others) the local MP and businesses. Notably, the student and a representative of the charity were interviewed by BBC Sussex about the project. Find out more.
More student work
The Boy Soldier Podcast - Chloe Locke, 2020
This podcast tells the story of Private 'John' Condon of the Royal Irish Regiment, who was the youngest recorded allied soldier to die in WW1 at the age of just 13. The podcast is based on the book Aged 14 by Geert Spillebeen. 
Equal Education - Maisy Morris-Davies 2020
Equal Education is an immersive multimedia exhibition that follows the upcoming regulation meaning relationship and sex education programmes will be LGBT+ inclusive. This playlist consists of the stories of those who endured a non-inclusive education and the impact it has had and what the future will mean.
Antonio Storyboard Pilot – Emily Cox 2020
Talking Robots are the talk of the town. Are they listening to us? What do you do when they let out a creepy laugh? This ten-minute comedy short explores the struggles of an ordinary family when their smart-speaker Antonio goes wrong.
Needle of Nightmares -​ Alex Benbow-Carter, 2020
Needle of Nightmares is a fully performed fictional horror podcast combining dialogue, sound design and original music. The narrative device of the cursed LP record provides for an anthology horror format, harking back to old horror shows of the 80s and 90s. This is a 15 minute pilot episode to showcase the potential of the series.
Zen and the Art of Model Making – Barney Hayter, 2019 graduate
Zen and The Art of Model Making is a 15-minute documentary, following the career of Philip Reed, a creator of model ships. The film explores what this dying artform has brought him, and examines the universal idea of wealth and happiness beyond material possessions.
My Robot Friend – William Pattenden, 2018 graduate
My Robot Friend is a family-friendly adventure film about an optimistic school child who wants a robot of their own, but poverty and bullying prevent him from reaching his goal. So, he finds a 'resourceful' solution to his dilemma. The project took one year to create from idea development and pre-production to post-production and examiner marking. The student designed and fabricated the robots himself and they took six months to make.