Most of our undergraduate and postgraduate courses are delivered on Talbot and it plays host to a range of lecture theatres, seminar rooms and specialist facilities, such as forensic and genetic labs, TV and music studios, and high-spec computer labs. 
You'll find plenty of inspiring study spaces across the campus to work in, individually or in groups – and there are lots of cafés and restaurants to enjoy between your studies. 
When it comes to student accommodation on Talbot, the Student Village is close to all learning and social spaces, as well as our on-campus support services, which include the Medical Centre, Faith & Reflection service and Student Wellbeing service.
Talbot is just a short bus ride from Lansdowne Campus, where the majority of our accommodation is based, along with most Health & Social Care and postgraduate Business & Management couses.
As a fairly compact campus, it's easy to quickly get your bearings on Talbot – but there's also a lot to explore! To take a look around the entirety of the campus in detail, visit our virtual tour – or read on for information about some of the highlights.
Poole Gateway Building
Opened in spring 2020, the Poole Gateway Building is the latest addition to Talbot Campus. Offering 5,000 square metres of space, it's predominantly home to a range of high-quality, professional-level production facilities. These include two multi-camera TV studios equipped with 4K (Ultra High Definition) cameras, a sound stage, music studios, a screening room, edit suites, sound suites, and a green screen and motion capture studio.
The building also accommodates animation and games PC and Mac labs, equipped with industry-standard software and the latest post-production editing eco-system, allowing for online collaboration for students working on group projects.
While it is used mainly by students from the Faculty of Media & Communication and the Faculty of Science & Technology, it's open to students from other faculties too.
And, as with all our new buildings, it's designed to be environmentally friendly and features a number of carbon-reduction measures.
Explore Poole Gateway Building in detail on our virtual tour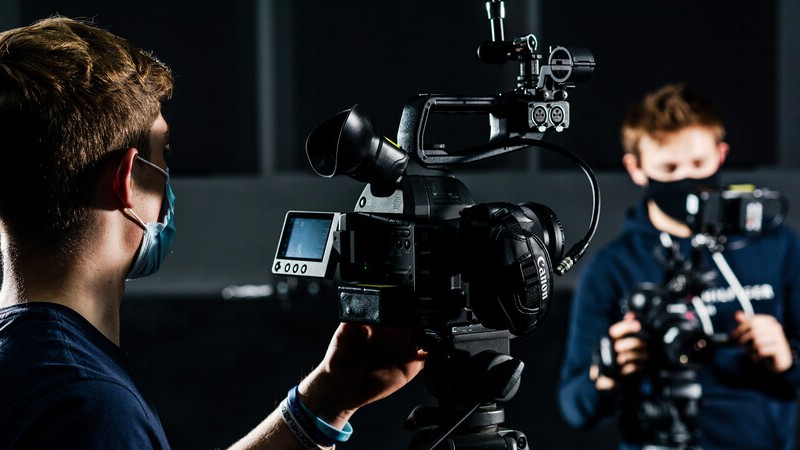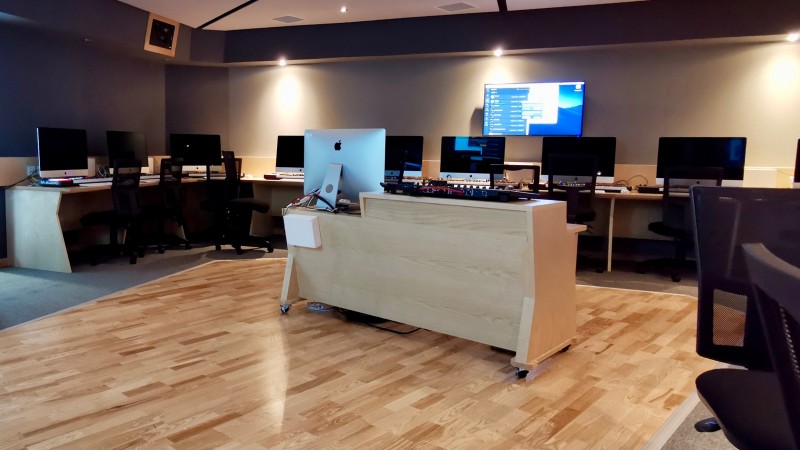 Christchurch House and Dorset House
These two buildings are where you'll find a number of labs used across a wide range of courses. They're also home to crime scene simulation facilities used by our Forensic Science students.
Christchurch House is where facilities for our Department of Archaeology & Anthropology are located. The Zooarchaeology Lab holds an impressive skeletal reference collection, while the Anthropology Lab includes hominid and primate teaching casts and over 1,000 sets of human remains – one of the largest collections of this kind held by any UK university.
Elsewhere in the building, in addition to the aforementioned crime scene facilities, you can find forensic lab equipment and a large teaching lab for students on our Archaeology & Anthropology, Life & Environmental Science and Medical Science degrees.
Dorset House is home to our Doctoral College, which provides support to our postgraduate research community. It's also where our Forensic Toxicology, Scanning Electron Microscope (SEM) and Microscopy labs are based, as well as a range of industry-standard analytical instruments. This building is also home to the Business School's Professional Engagement Suite.
Weymouth House
Weymouth House plays host to a variety of facilities for our Communication & Journalism students. This includes a dedicated newsroom equipped with over 20 iMacs, all of which come with the Adobe Creative Cloud suite of desktop apps including Premiere, Photoshop, InDesign and Audition for modern news production.
There's also a suite of four radio studios, which are arranged for different uses, including journalism, live music and magazine programmes, outside broadcasts, drama, and our award-winning radio station.
In addition, journalism students have their own dedicated TV newsroom and studio for preparing and broadcasting video news content. Weymouth House is also home to computer labs used by animation students.
The Fusion Building
Opened in 2016, the Fusion Building is a modern, light-filled building, offering a variety of spaces to study and socialise.
These include three lecture theatres, 27 seminar rooms, research space, a PC lab and numerous catering facilities, topped with a striking glass-domed roof.
The building features a range of technologies to reduce its environmental impact, all of which have contributed to its BREEAM 'Excellent' rating. These include solar panels, sensor lighting and ground source heat pumps which lower our carbon emissions and heat the building in the winter while cooling it during summer.
And the building's environmental credentials don't stop there; you'll also find three beehives on the roof – helping local biodiversity while also producing 'Fusion' honey.
The Sir Michael Cobham Library and Careers & Employability Centre
Located at the heart of Talbot Campus is The Sir Michael Cobham Library and Careers & Employability Centre.  
When it comes to getting your assignments done, The Sir Michael Cobham Library is home to our largest collection of printed resources, in addition to multimedia and electronic resources. This includes our substantial collection of e-books and e-journals, which you'll be able to access wherever you are, through our virtual learning environment and mobile app. 
You can make use of one of hundreds of PCs in the library or, if you'd rather, hire a laptop by the hour from our loan service. The library also plays host to a range of study areas, from silent study floors to beach-hut themed technobooths, bookable study rooms and social learning spaces. 
Located next to the library, the Careers & Employability Centre is where you'll find our experienced and friendly Careers & Employability team. They're on-hand to offer impartial support and guidance when it comes to employability skills, securing a placement and that all-important first job. You'll have access to the service not only as a BU student but also up to three years after you graduate.
Explore The Sir Michael Cobham Library and Careers & Employability Centre
The Student Centre 
As the name suggests, the Student Centre is a hub for BU students to work collaboratively and socialise. 
Whether you're looking to get together for a group assignment or catch up with friends, the Student Centre offers a variety of learning and social spaces. These include more beach-hut themed technobooths, plenty of light-filled breakout spaces and the Ground Up Cafe. And it's not just indoor spaces – the courtyard outside the building is a great spot to enjoy a spot of sun. 
It's also where SUBU, the Students' Union, is based, including many of its clubs and societies, and SUBU Advice. This is where you can access free, confidential academic and personal advice. 
And if you're keen to get involved in media, you'll find SUBU's student-run radio station, Nerve Radio, and Nerve Magazine located here. You don't have to be studying a media-related degree to get involved – Nerve Media is available to all BU students and can make a great addition to your CV.
SportBU
Whether you're a talented athlete or just want to keep fit and active, SportBU has something for everyone – and it's a great way to make friends.  
Situated next to the Student Centre, it offers a range of on-campus facilities, including a fitness suite (with up to 60 stations and various memberships options), a four-court sports hall, two all-weather floodlit 3G artificial sports pitches, and group fitness and spin studios. 
If you decide to join BU, you'll be able to take your pick from over 50 group classes a week and our comprehensive campus sports programme, where you can get involved in football, netball, surfing and much more. 
When it comes to our Performance Sport programme, TeamBU athletes have exclusive access to a number of on-campus facilities, including a high-performance gym and a range of treatment rooms to keep them in the best physical condition.
The Innovation Centre
The Design and Engineering Innovation Centre is a series of workshops and laboratories fitted with a wide range of equipment and tools that are for the dedicated use of design and engineering students, researchers and related industries. By using this equipment to create and develop your prototypes, you'll gain an in-depth understanding of engineering products and the production process itself, which will be invaluable once you're working in the engineering or product design industry.
In addition, the Innovation Centre incorporates experimental labs to support the research undertaken in the Department of Design & Engineering.
These facilities are used by MDes, BSc (Hons), and BA (Hons) Product Design students, as well as those on our MEng (Hons) Mechanical Engineering and BSc (Hons) Design Engineering courses.
Art room
Our art room in Poole House is a valuable space where animation students can practice different art skills to enhance their animation work.
We understand the importance of artistic skill in animation, which is why we teach students with technical skills the artistic side of the subject, as well as helping those with an artistic background to develop their technical abilities.
The art room is also used for the likes of life drawing and observational art classes, and you'll find bench and standard easels, and a range of art supplies including clay for you to make use of.
The space is also used to conduct movement exercises, and for theory and acting workshops, which are particularly relevant for anyone studying character animation.