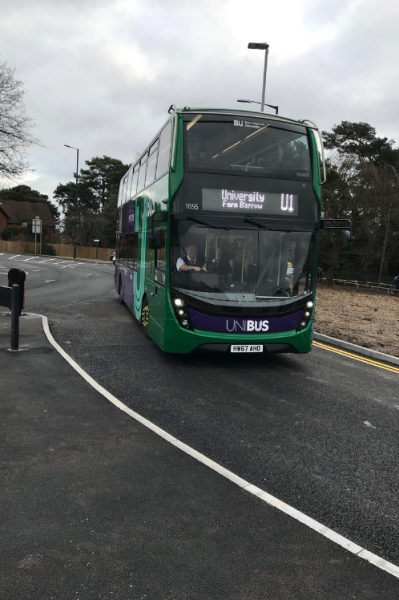 The opening of a new fourth arm from Boundary Roundabout connecting to Gillett Road at the eastern side of the Talbot Campus will help improve traffic congestion and air pollution in the area at peak travel times, as well as save travel time for those visiting BU.
For those travelling by bus, all westbound UNIBUS services will use the new road to access the newly opened Talbot Campus bus hub, meaning the bus stop on Wallisdown Road (stand K) will no longer be served by the U1, U3, U4 or U5 services.
Drivers can also use the new road to access visitor and permit holder car parks, and should be aware of the new tiger crossing - which combines a pedestrian zebra crossing with a crossing for cyclists - located on the link road near the Boundary roundabout connection.
This is the final piece of BUs Infrastructure Project has delivered the following improvement to Talbot Campus:
Relocation of visitor and events car park – May 2017
Car Park H extension (150 bays) – completed July 2017
Landscaping Project – completed September 2017
Access road resurfacing – completed September 2017
Gillett Road widening – completed September 2017
A new waste compound – completed October 2017
A purpose built bus hub – completed December 2017
Poole House visitor car park – completed December 2017
A fourth road arm from Boundary Road Roundabout to Gillett Road - completed January 2018
What's next
The Poole Gateway Building construction project is the next focus for BU, with work starting in January 2018  to provide an inspirational academic building which will create an attractive visual gateway on the eastern edge of BU's Talbot Campus, making an impressive landmark for the gateway into the Talbot Campus, BU and Poole. Find out the other ways BUs campus will change this year.