First year BA (Hons) Events Management students were tasked with a project to create an event concept for a real Bournemouth-based client.
This year the students pitched to Aruba, Westbeach, Urban Reef and Zim Braai in a 'Dragon's Den' fashion - presenting their research and ideas to their respective clients in a short presentation.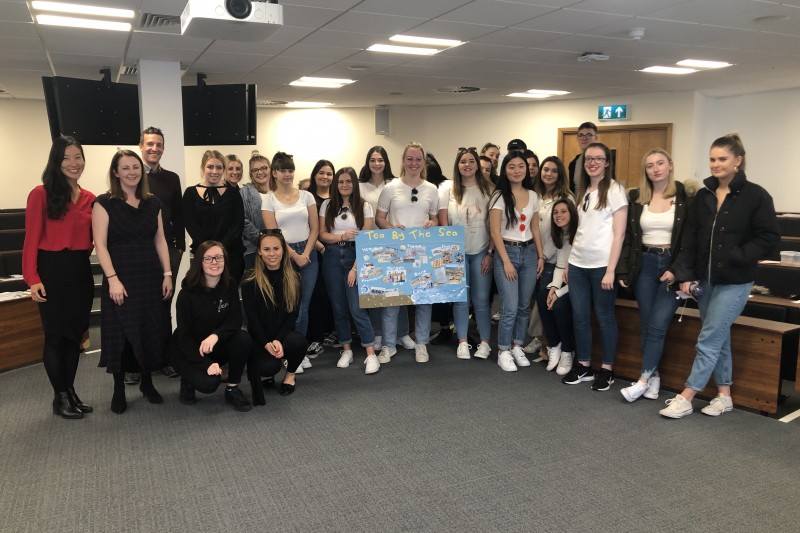 The project is part of the course's Event Innovation unit, meaning the event concepts also needed to have innovation at the heart of the idea. 
Urban Reef is a restaurant right by the sea with a surfer feel. One of the groups that pitched to them created an afternoon tea event idea, incorporating the brand style and location by adding a surf lesson to the event offering.
The event was called 'Tea by the Sea' and they came up with the idea by using various models and theories to research the market, identify the audience and put together a rationale for their event idea. Incorporating a mix of video and presentation, the group successfully pitched their idea to the panel.
"It was a really good experience to pitch to a real-life client, and has given us great insight for when we come to start planning our live-events next year," said team member Sam Sayer
Fellow team member Bryony Owen added: "Learning these presentation skills this early on in the degree is really valuable as not only will it help for the rest of the degree, but going into placement and a graduate role." 
"This project was definitely challenging, especially working in such a big group with lots of strong personalities, but it's been a real learning curve and an insight into what it might be like when we do enter the events industry as professionals," said Amy McMillan, who was also part of the team who pitched. 
The 'Dragons' on the panel were BU graduate Matt Lawrence, who is Marketing Manager for Urban Guild, and Chloe Grant, who is currently Marketing Assistant for Urban Guild while on her placement year at Bournemouth University, studying BA (Hons) Communication and Media.
Matt said: "The students came up with some great ideas for Urban Reef, and we were really impressed with the depth of their research and concept generation. This is the third year we have been a part of these pitches, and we love hearing the students' ideas. It's great to see them start to develop a creative thinking mindset and commercial awareness when looking at events."
Chloe added: "Knowing how they feel being a student myself, I thought they put across some great ideas and presented them really well. It's really cool that they get the opportunity to pitch to a real client as it adds a bit more pressure to the presentation and allows them to hear constructive feedback from someone in the industry."
If you're interested in studying BA (Hons) Events Management, visit the course page to learn more and read student and graduate stories.