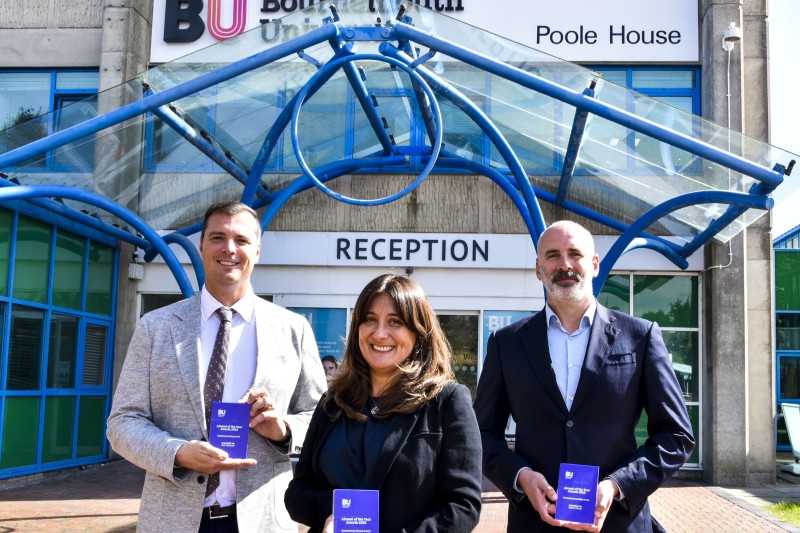 The contribution of BU graduates to communities both near and far were recognised last week at the presentation of our annual Alumni of the Year Awards. The nominations and the final winners reveal the inspirational stories of our graduates who have gone on to make an impact in line with the university's stated purpose of inspiring learning, advancing knowledge and enriching society.  
Nominations for the awards encompassed a wide range of roles and sectors from journalism and palliative care to investment banking and sustainability, demonstrating the breadth of careers followed by BU's alumni. The nominations also show how we boost skills through our graduates. After a challenging judging process, the four worthy winners were announced recently: 
Rob Mitchell, Advancing Learning Award: As Commercial Director of AFC Bournemouth, Rob has been key in the development of the partnership between the club and BU during the past nine years. He has continued to support the university since graduating and facilitates placements and real-life experiences for students at the club. In addition, Rob uses his skills to support the wider community; he was instrumental in the expansion of community girls' and women's football and he played a central role in the British Council China UK Football Study Programme that AFC Bournemouth and Bournemouth University partnered to deliver for four consecutive years. 
Rob commented: "It is an incredible honour to be given this Bournemouth University Alumni of the Year Award. I look back at my time at Bournemouth University with great fondness and know that without my degree, I would not have been able to progress my career in football. I am delighted that my relationship with BU has been able to continue through the official partnership that AFC Bournemouth has with the university and very much enjoy working with students on various projects. It is rewarding to know that these experiences go a long way in supporting a student's success at BU, as well as in their future careers. I hope to inspire others to know that through hard work, dedication and desire, you can achieve great things."
Robert Clark, Advancing Knowledge Award: Listed in the ENDS Top 100 Most Influential Environmental Professionals that have made the greatest impact, Robert is a fisheries and conservation manager with a proven record of delivering novel and effective solutions to marine environmental issues. Robert is Chief Officer of the National Association of Inshore Fisheries and Conservation Authorities and, since taking on this position in 2021, has played a key role in the development of national policy relating to fisheries management and the protection of marine areas. Robert is clearly contributing to the safeguarding and preservation of a sustainable environment, as well as having a positive impact on the local economy through his professional career. 
Robert responded: "Thank you so much! I am honoured to receive this award. I would like to thank my lecturers and all the staff at Bournemouth University, who inspired me to pursue a career in coastal management and provided such an excellent multidisciplinary education. I have been fortunate to work in a career I love and with people who have taught me a great deal. It has been a privilege to work with and on behalf of the local community and with many brilliant people. I am proud of what they have achieved to put the local fisheries on the global map for sustainability."
Dev Mistry, Enriching Society Award: Since graduating only seven years ago, Dev has worked his way up through junior positions to his current role as Global Internal Communications Manager at DICE, a fan-centred ticketing app. In addition, Dev is passionate about increased racial and LGBTQ+ equality and throughout his career has supported and led equality, diversity and inclusion activities, participated in external speaking opportunities and earlier this year, took part in BU's award-wining DRIVE Change programme.
In response to his award, Dev said: "Bournemouth University has played such a huge part in my life and career, helping me to get roles I'd only ever dreamed of – while being supported by the university and alumni throughout my journey. Coming to Bournemouth University was the best decision I made, and it gave me the chance to thrive both professionally, creatively and more importantly, personally too."
Beatrice Boué, International Alumni Award: Beatrice has thrived in the high-pressured, male-dominated environment of the advertising industry to become Global Head of Media for the De Beers Group, where she is driving digital transformation, operational excellence and accelerating the transformation of the business into one that is better positioned to realise the opportunities ahead. Beatrice also supports positive change in the organisation through her contribution to its diversity, equality, inclusion and sustainability strategies. Throughout her career, she has helped creative and cultural industries to thrive. However, Beatrice has never forgotten her time at BU and has inspired our students with numerous guest lectures, live briefs and recruited students for internships and full-time positions.  
Béatrice commented: "I am humbled to have been nominated by Dr John Oliver and delighted to have won the International Alumni Award. I came to Bournemouth University from my native France to study an MA in Marketing Communications after graduating from my four-year degree in Business Law. The year 1999 did not disappoint. It was a milestone year in my life. For a start it was the first time I enjoyed and thrived at school! It allowed me to grow, to believe that I could try anything and gave me the toolbox to blossom in my career."
Jon Goode, BU's Head of Alumni Relations, summed up by saying: "Our Alumni of the Year Awards have become a high point of the university calendar, providing an opportunity to celebrate the achievements of BU's graduates and share their inspiring stories. This was the first time in a number of years that we have been able to present the winners with their awards in person, so it was a good chance to get to know them a little better, as well as to network with the judging panel and award nominators. Thanks to all those who attended and contributed towards a memorable event."
Please visit the website for more information about the Alumni of the Year Awards and this year's winners.