Four financial experts were invited to BU to participate in a round table discussion for final-year Business & Management students on the entrepreneurship and marketing pathways.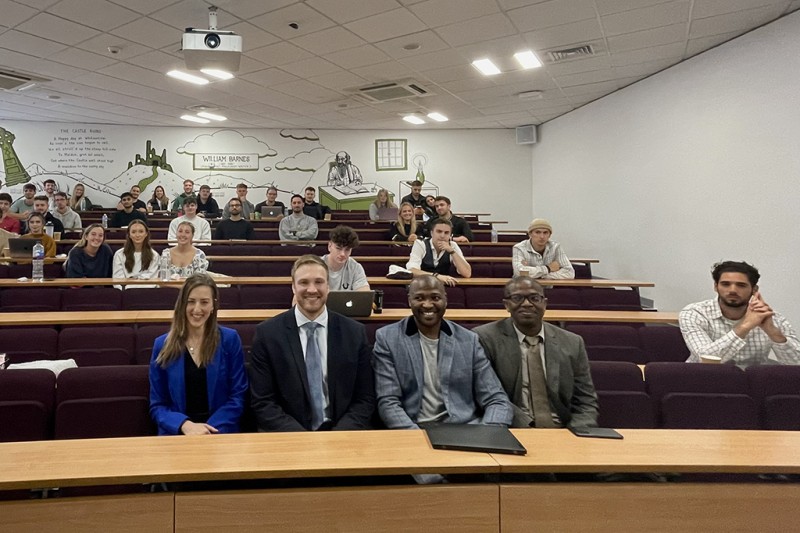 The panel consisted of Dr Lennox J Henry, Executive Coach and Management Consultant, Nick Gregory, Operations Director at Dorset Growth Hub, and two BU graduates, James Pritchett, Wealth Management Consultant, and Esraa Al Saab, Marketing Executive at Peter Harding Wealth Management.  
The panel was organised and facilitated by Senior Lecturer in Entrepreneurship, Dr Nasiru Taura for the unit Entrepreneurship and Business Ventures. Dr Taura said: "When a great cohort of students, meet great expert minds, and great alumni panellists, as well as a great atmosphere for learning, then you would expect nothing short of an all-rounded intellectual stimulation to naturally happen." 
He continued "That's what happened during our event, and that's why we deliberately called the event a round table discussion. These types of events have all the benefits of achieving a well-rounded positive experience for our students." 
Each of the financial experts spoke about key themes, such as knowing the basics to start up a business, ways to finance your business, and personal financial planning. The guest talks preceded the round table discussion and the session finished with a Q&A between the students and experts.  
BU alumni, James Pritchett said: "I remember the sense of camaraderie I felt when hearing from alumni speak during my time at uni. Now that I am privileged enough to be in a position to give something back, I strongly believe it is important to do so. If there is a chance even one student finds what I have to say helpful then it's worthwhile." 
Esraa Al Saab, BU graduate, added: "'It was such an incredible moment to step back into BU as a guest speaker to talk to students about my journey and give them some career tips. It all felt so surreal and I can't wait for more events coming soon." 
Business & Management student Daniel Staniforth said: "The part I found most useful was the personal finance talk as I've got money saved from placement year and I've never known what to do with it, so it was useful to understand the different ways you can invest and save for the future. In addition, the different ways to get start-up investments when trying to start your own business was also very useful and interesting." 
Financial expert Nick Gregory is also involved in the Dorset Growth Hub Business Start-Up programme, exclusive for BU students. The programme is a comprehensive 2-day workshop, on the 8 and 9 of November, that will provide information and guidance to help deal with the key issues that are going to be fundamental to setting up and succeeding in business. If you're a BU student, sign up here.