In a bid to challenge traditional crisis journalism, Bournemouth University's Dr Chindu Sreedharan and Dr Einar Thorsen brought together a team of 38 journalism students and seven staff members from five universities around the world, in a project known as Aftershock Nepal.
The international collective of training journalists and academics travelled to the Himalayan country in the run-up to the disaster's first anniversary in 2016, capturing stories which explored loss, recovery and life after the catastrophe, in a bid to help the Nepalese people.
Chronicling the crisis
Students from BU were joined by those from Kathmandu University and Tribhuvan University in Nepal, plus Symbiosis International and Amity University in India. Based in a news bureau in Kathmandu, the group travelled to earthquake-affected areas in Nepal, gathering stories from remote rural villages, many of which hadn't previously been visited by journalists in the aftermath. In total the team was successful in interviewed over 150 earthquake survivors.
"The whole idea of Aftershock Nepal was to chronicle what was happening out there, and we found that there was a real need for that," says Dr Sreedharan, a Principal Academic in Journalism and Communication, who spent a decade covering global news events before starting his career in academia. "The media attention on a disaster such as this can come and go so quickly, while we had the time to fill the gap and address the issue. We also gave our students the opportunity to respond to live crisis reporting to see how they would put into practice what we had been teaching them."
The moment the earthquake hit
Catching the public eye
The team went on to create almost 100 stories, including in-depth features and photo-essays, which were published on the purpose-built Aftershock Nepal website, as well as dedicated Facebook, Instagram and Twitter accounts. What's more, 19 of the articles were picked up and published by mainstream news outlets, resulting in professional bylines.
"Over a period of many months, we tried to provide the world with a rich and complex picture of what was happening in Nepal through our version of 'humanitarian journalism'," says Dr Sreedharan, who created the project in collaboration with BU colleagues Dr Thorsen and Robert Munday, facilitated by Global BU, the university's global engagement and outreach hub. "The whole point really is that crises are not simple. They are extremely complex and nuanced incidents that happen and carry on happening for a very long period of time. They don't stop when the news stories stop."
It's a perspective that's reinforced by earthquake survivor, Pastor Kumar Pokharel: "I am so happy with Aftershock Nepal. It was hugely helpful for everyone here. When the earthquake hit, the news media came. But they did not come after that. If the media comes, it encourages rebuilding. If they come and see, that's good news."
The investigation continues
The research gathered in Nepal was later shared with a variety of external stakeholders, including journalists and NGO workers, at two conferences which further explored the challenges faced in crisis situations. The impact of the project on student journalists and what it might mean for crisis reporting in future were also discussed.
"Where else do you get an opportunity to do something of this scale? When do students get the chance to put their education into practice in a real crisis zone, to practice what they are learning and contribute to advancing scholarly knowledge at the same time? This really has been a life-changing project for so many people," says Dr Sreedharan. "We now have first-hand knowledge that we can use as research to make a real difference to this industry."
View Dr Sreedharan's staff profile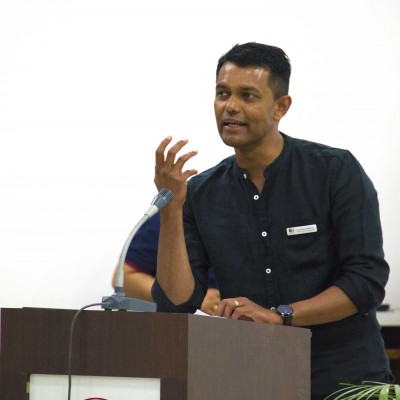 View Dr Sreedharan's staff profile
Senior Lecturer in Journalism and Communication, Bournemouth University
Centre for the Study of Journalism, Culture and Community
The whole point really is that crises are not simple. They are extremely complex and nuanced incidents that happen and carry on happening for a very long period of time. They don't stop when the news stories stop.
Past, present and future
Aftershock Nepal follows on from the success of Project India, a similar initiative created by Dr Sreedharan and Dr Thorsen, which saw BU students work with four educational institutions in India and three online news organisations to cover the 2014 Indian elections. The collaboration resulted in more than 70 news and feature articles, which were published on a project website, several social media channels, and a handful of professional media outlets.
Continuing on from the work achieved in both projects, Dr Sreedharan, with Dr Thorsen, is currently heading up a third research and capacity building project: Media Action Against Rape (MAAR), led by Bournemouth University in partnership with UNESCO and supported by the Global Challenges Research Fund (GCRF).
The ongoing research sees Dr Sreedharan and Dr Thorsen tackle a 20-month study which maps the journalistic challenges of reporting rape and sexual violence across India. As well as analysing the processes involved in rape reportage through in-depth interviews with journalists and charting the challenges they face, the team will also undertake one of the largest comparative content analyses of news reporting of rape in India.
The analysis will cover ten newspapers across six languages for a three-month period (June to August 2018). Like Aftershock Nepal and Project India, MAAR hosts its own dedicated news site, which for this research study scrutinises the representation of sexual violence in the Indian news media.
News from the Faculty of Media & Communication