The toolkit
The toolkit developed by the ADRC provides freely available resources (Eating and drinking well with dementia resource, learning portfolio and model answers, a guide for care staff, a guide for friends and family, and a training video) to deliver person-centred nutritional care in dementia. 
Please click on the below boxes in blue to access and download the training materials for free.
The toolkit has been used all over the UK and overseas as far afield as Australia, and is the winner of the 2019 CN Award for Nutrition Resource of the Year.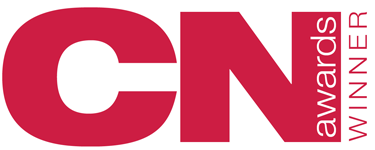 Learning opportunity - develop your knowledge and skills 
Eating and drinking well: supporting people living with dementia resource, learning portfolio and model answers
This resource for care givers is packed full of practical tips and simple approaches gathered from our research to help overcome some of the difficulties encountered daily by people living with dementia. Along with case studies, activities and further reading, it provides signposted resouces and advises how to maintain a personalised approach for those receiving care, with dignity and respect.
The resource is linked to a new learning portfolio and model answers that aims to develop knowledge and skills around nutrition and hydration to provide best-quality care that offers an excellent CPD opportunity, which can be completed flexibly.
Resource, learning portfolio and model answers 
A video which provides some examples of good practice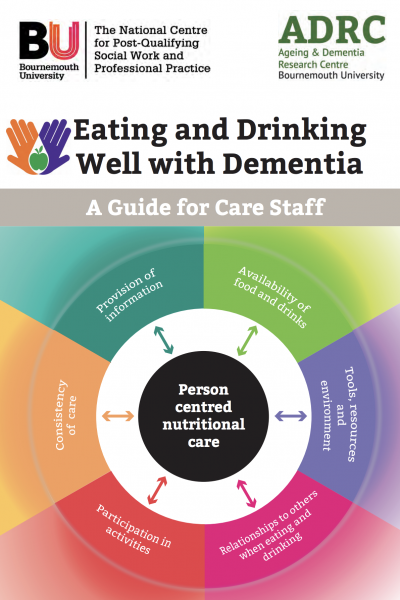 Eating and Drinking Well with Dementia: A Guide for Care Staff
This guide has been developed from research to understand the quality and delivery of nutritional care for people living with dementia in combination with best practice examples from across the country, to design and develop evidence-informed education and training.
It provides information in a form to guide care staff with helpful tips and signposting to resources.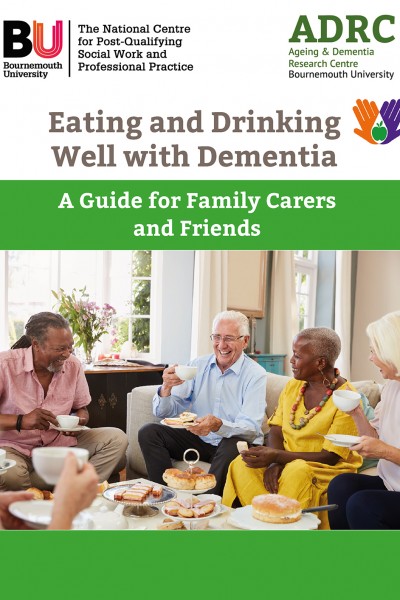 Eating and Drinking Well with Dementia: A Guide for Family Carers and Friends
This guide for family carers and friends is full of information about eating and drinking well for people living with dementia.
The guide has been developed to provide some helpful advice and tips on how to increase food and drink intake for those living with dementia. It does not cover nutritional care in people with advanced dementia. It is important to seek specialist nutritional support at this stage. It provides information in a form for family carers and friends.
A Guide for Family Carers and Friends
Community resource
Managing malnutrition (as undernutrition) and caring for older people living in the community workbook for staff working in the community teams (integrated, nursing, therapy) 

This workbook has been published as part of a research project called INSCCOPe (Implementing Nutritional Screening in Community Care for Older People). This project looked at the effectiveness, barriers and enablers to implementing a new procedure for screening and care for older people by integrated community teams (ICTs) within Southern Health NHS Foundation Trust. The new procedure was implemented by ICTs in Andover, Winchester and Basingstoke.
Managing malnutrition (as undernutrition) workbook and videos
Tackling a complex challenge
Around 850,000 people in the UK have dementia. One outcome of the condition is that eating and drinking becomes increasingly difficult, which heightens the risk of severe malnutrition and weight loss. As a result of the research conducted by Professor Jane Murphy and Dr Joanne Holmes, the best practice guidance available in the toolkit is helping front-line nurses and care home staff help people with dementia to eat and drink according to their needs.
Ensuring appropriate food and nutrition is a vital part of delivering dignity in care for people with dementia. Yet as dementia progresses, it's not uncommon for people to lose weight, which can lead to further physical and mental decline.
The reasons behind weight loss are diverse. Some people face physical difficulties with chewing and swallowing, while others may struggle to identify when they feel thirsty or hungry. For busy care home staff, managing this and knowing how best to support people they care for – each with their own needs – can be a real challenge.
Despite these known concerns, there are no standardised ways to maintain adequate nutrition in people with dementia.
The launch of the research
To try to tackle the issue and assist front-line care staff, Professor Murphy and Dr Holmes were awarded a grant by The Burdett Trust for Nursing to undertake this groundbreaking research project.
"We worked with local care homes in Dorset to find out how much people were eating and drinking each day. Our results showed that around half of our participants weren't eating or drinking enough to meet their daily energy needs. We also found that many people were spending a high proportion of their day sitting or sleeping, which may explain why some had small appetites," says Professor Murphy.
The next stage was to work with local care homes to draw out examples of best practice and strategies to help people with dementia to eat and drink well. A whole-care-home approach was a key element of the project, involving service users, families and carers of people with dementia who were able to inform and guide the research.
"Working collaboratively with care staff was essential to developing these resources as we were able to draw on the expertise of and best practice used by frontline staff," continues Professor Murphy. The BU team also worked in partnership with local councils, Partners in Care, the Dorset Local Enterprise Partnership and national and private care home organisations.
Emma Connolly
Programme Director for Greater Manchester Nutrition and Hydration Programme
The guide is simple yet comprehensive. It focuses on supporting people living with dementia to eat and drink well in a dignified way with positive and practical tips for care staff. It has the potential to transform nutritional support in care homes.
Testimonial commissioner of care services
We used the workbook as a superb resource to input in our action plan to improve nutrition care in our borough across health and social care providers for people living at home and in a residential home.
Professor Jane Murphy talks about nutrition in dementia care
Positive feedback
"We chose to make resources that can be used at any time, as we know that care staff are extremely busy, and taking time to travel to training sessions can be difficult," explains Professor Murphy. "The training tools explain why ensuring good nutrition is essential and provide practical tips for how staff can support people to eat and drink as part of their person-centred care. These range from getting to know people's personal preferences, to ideas for encouraging people to drink enough, developing appealing menus and even improving the environment for meal times."
The response to the resources indicates the impact and difference small changes can make on nutritional care. To date, over half of the recipients have reported that people with dementia who had poor appetites or were losing weight are eating more as a result of the suggestions and interventions in the guide. Quality improvements in nutritional care have led to increased Care Quality Commission ratings in care homes.
One user has commented how "we are now developing taste sessions within the home and being more creative with the menu and presentation."
Another said: "This workbook has been a hugely useful tool… I have been able to communicate best practice in supporting people re eating and drinking well with dementia just by handing them this work book and explaining the relevant information."
"Most encouragingly," says Professor Murphy, "we're beginning to hear stories of people with dementia who were at risk of or actually losing weight, beginning to reverse that trend – as many as 40% of those who have reported back since engaging with the resources. This shows us that the strategies we highlighted in our resources are making a real difference."
News from the Faculty of Health & Social Sciences