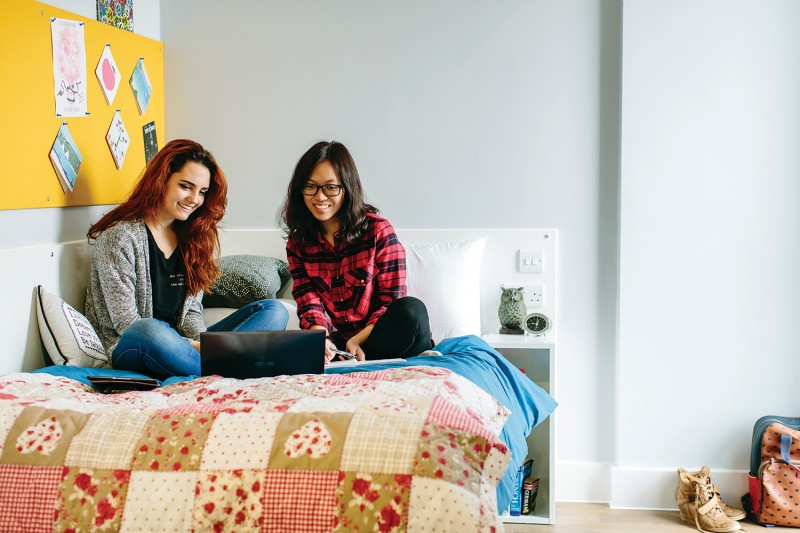 We want to ensure that students joining BU for the first time in September 2020 are able to do so safely, confidently and with increased support. We have previously outlined what will be open from September and given guidance on how we are keeping students safe on our campuses. Below gives more detail on some the changes we have made to help if you are starting at BU in September.
If you're looking for further details about Covid-19 and the next academic year, please refer to our Covid-19 FAQs page.
Early arrival
This year we have planned for a longer arrival period, to allow you to arrive early at no extra cost. Contracts in our BU student accommodation portfolio commence on Saturday 19 September, but this year you may arrive from Saturday 12 September. This will reduce the number of people arriving at any one time to allow for a smoother and safer moving in process.
If you have chosen to live in our BU student accommodation and are required to self-isolate on entry to the UK, you will be able to arrive from Saturday 5 September instead of Saturday 12 September. This allows you to start your 14-day period of self-isolation before the start of term. You may find the Government advice on how to self-isolate when you travel to the UK and the full list of countries exempt from having to self-isolate useful for your arrival. BU will also supply you with essential bedding, kitchen and food packs to support you during the self-isolation period. You can find more information on our preparing to move here and Covid-19 accommodation safety measures webpages.
If you have not booked a room in a BU managed hall or UniLet house you will need to contact your accommodation provider directly to make arrangements.
For those of you arriving from 5 September, we have organised a programme of virtual events for you to take part in. These events will help you get comfortable with UK university life and allow you to meet other new students whilst self-isolating. Some of these events include:
Study skills resources
We are working hard to ensure the impact of Covid-19 doesn't negatively affect the quality of your student experience or university outcome. To help new students know what to expect at BU and understand how to develop your skills once you are here, we have worked on a programme of pre-arrival information and activities. New students will be able to access these resources on Brightspace, our virtual learning environment, from 18 August, after completing online registration. Further details are available on our pre-arrival activities webpage.
Arrival activities
We have planned for your BU experience to start from Saturday 12 September with activities to give you an introduction to university life and how to take advantage of our services. A wide range of events will take place virtually and, where possible, physically on campus, so whether in Bournemouth, self-isolating or at home you can prepare for university life before the start of semester one.
We encourage all new students to participate in some of the activities on offer and a full list of the arrival events and activities is available on our website. This website will be updated as events are confirmed, so be sure to check back often.
For students living in BU accommodation, you will also have access to a wide range of events held by your ResLifeBU team. ResLifeBU are all about creating a friendly and supportive community so you can meet new people and make the most of your time here. Their events range from sporting activities and excursions such as mini-golf, rock climbing, outdoor yoga and trips to Durdle Door or Studland Bay to wellbeing activities such as film and open mic nights, free pizza evenings and handmade crafts. No matter your interests, there is something for everyone. You will find out more about ResLife activities when you are here, but you can stay up to date by following them on Facebook @BUResLife and Instagram @reslifeBU.