Over 100 students from BU's Faculty of Media and Communication worked throughout the night to provide live coverage of the 2019 General Election. 
Students and staff from across a range of BU courses - including Journalism, Media Production, Television Production, Law, Politics, English and Communication & Media - produced a range of coverage across print and broadcast media. 
186 students took part in producing the live coverage, which was hosted on the students' Buzz news site. TV and radio bulletins, produced and presented by BU students, were also broadcast throughout the night after the polls closed at 10pm.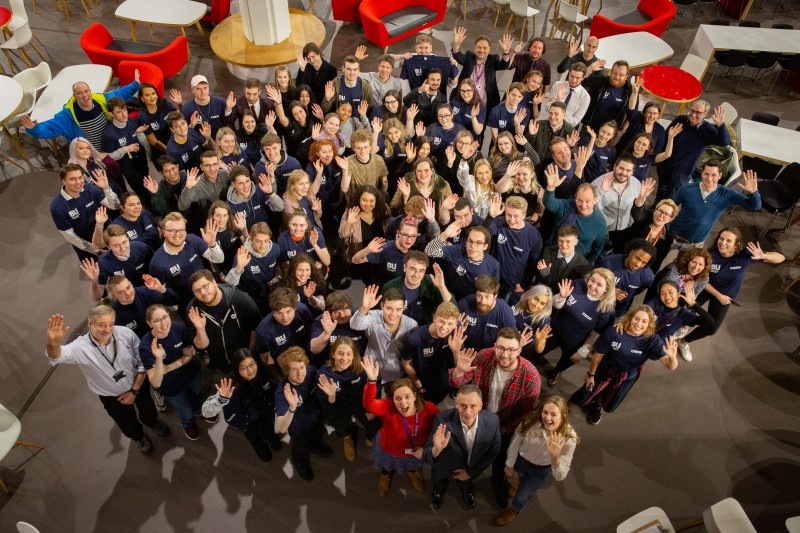 Live guests joined the team in the studio to debate key issues, and politics students designed their own results prediction models. Students were also posted at key counts in Bournemouth, Southampton and Weymouth to give live updates of local results as they came in.
Lecturer in Journalism, English and Communication Miriam Phillips, who supported the students' coverage, said: "The election coverage at BU was a night to be truly proud and inspired by our next generation.
"Passionate, engaged students came together to put on an incredible overnight news programme across TV, radio and online. Students worked with BJTC reporters across the UK at counts and in newsrooms and interviewed political pundits. Both students and staff had a memorable night and we are very proud to be part of this historic election."
Ahead of the election students also held a Question Time-style debate, called Our Time, with parliamentary candidates quizzed on a number of issues picked by young people. 
The event was produced and broadcast live by students and staff, and final year BA (Hons) Multimedia Journalism students Connor Stringer and Nicole Baddeley presented and chaired the debate, which had representatives from the Green Party, Liberal Democrats, Labour and Independent candidates who are standing in the Bournemouth West and East constituencies.
A team of BU students also acted as fact checkers, researching and clarifying points made by the candidates during the debate.
The live broadcast can be viewed at https://buzz.bournemouth.ac.uk/.