As a result of this challenging time, amazing stories have come to light, showing not only how resilient people are, but how they have used this time to help others; whether that's delivering supplies to a family member or vulnerable neighbour or joining an ever-growing army of volunteers to work in the wider community.
Here we're sharing stories from our staff about how they've been using this time to make a positive difference – whether that's for themselves or others.
Dr Varuni Wimalasiri, Senior Lecturer in Organisational Behaviour, the Bournemouth University Business School
I've been volunteering and helping to coordinate volunteer activities in the local COVID-19 support effort to assist people in my local area in Exeter.
As part of my research activities before the lockdown, I had been working very closely with a city council and various charities in Devon to assist in refugee resettlement. I was therefore able to access my network immediately to provide for the emerging needs of COVID-19 in my community.
I've become part of a volunteering coordinating team of six people in my local area; we have over 100 volunteers and 5,000 residents. Over the last few weeks we've been able to support those who are most vulnerable in our community and I've also used my research findings from working with vulnerable groups to help me develop a website dedicated to supporting the wellbeing of volunteers as they go about helping others.
Recently, our biggest topic of volunteer discussion has been about how we get free food to people who are most affected by the economic downturn created by COVID-19.  We're sourcing all our contacts and working with local food charities and networks in other areas to address this. We're also making sure we're supporting local businesses in our activities – who have been amazing and offered us many services and products for free to help the effort, even though this is a difficult time for them as well. 
I've been heartened to see the sheer effort that is going in in my community to help those who are lonely, hungry or unwell. People are going the extra mile to put a poster up, to find ways to cook a meal for a neighbour, and ensure people are well and in good spirits. I've seen a tremendous amount of compassion and regard for each other and I really hope this continues well after the lockdown.
Sara Taylor, Administrative Assistant, Student Support and Engagement Team
During the lockdown period I decided to join a sewing group called New Forest Sew for the NHS; a group of volunteers who have been sewing scrubs and other items for those working on the frontline in the NHS.
Since joining, I've sewn over 30 scrub-bags – drawstring bags for frontline staff to put used scrubs into after their shift. They take them home and throw the bag with its contents still inside into the washing machine to decontaminate at 60 degrees. In the past these garments would be left at and washed at the hospital. Staff were using pillowcases before we started donating scrub bags.
At the moment though, the priority is disposable gowns. I'm in a small sub-group with three other 'scrubbers'; all great, talented women. There's been an increase in the numbers of frontline workers requesting scrubs such as professionals like GPs, who would ordinarily wear their own clothes to work.
The group has raised over £3,500 through a Just Giving page to pay for the fabric for scrubs and getting the right material is very difficult. The bags and other items are made from fabric owned by group members or from bed linen donated by members, their friends, family, neighbours and even some businesses. Everyone helps the other source what they need.
The items have been going to Lymington Hospital and Southampton General plus others further afield. They have also been given to paramedic teams, GP surgeries, community midwives and care workers. Groups and individuals can join the group and make requests as well as offer to help.  
It's quite amazing what can be achieved by people, young and old, at grassroots level. Our group has makers who are self-isolating, vulnerable residents, relatives of NHS workers and even children as young as seven are learning to sew by making and decorating bags.
To see how the New Forest Sew for the NHS group is helping those on the frontline, please head to YouTube.
Dr Jane Murphy, Professor of Nutrition, Faculty of Health & Social Sciences
I've been working in collaboration with the Malnutrition Task Force within the charity Age UK and the Wessex Academic Health Science Network to develop new resources for older people who are at risk of malnutrition whilst self-isolating during the Covid-19 pandemic.
Current national policy for the Covid-19 crisis means that social isolation and loneliness in older people will significantly impact on food intake and in turn the risk of malnutrition – a significant threat to health as we age. 
Malnutrition is already a huge issue affecting 1.3 million people over 65 in the UK and many are already socially isolated. Social isolation, living alone and loneliness are well established risk factors for malnutrition, affecting appetite and reducing food intake through a decline in mood, physical functioning and cognition.  The problem is exacerbated by the current crisis with problems in accessing appropriate food and variety to meet nutritional needs and lack of social support and engagement outside of the home to increase health and wellbeing and improve appetites. 
I'm an Associate board member with the Malnutrition Task Force and was approached to help provide some practical guidance for those at risk of malnutrition whilst self-isolating. I was also asked to help adapt tools to help people identify the risk of malnutrition and manage it better during these difficult times. 
Anyone supporting older people may want to take a look at the resources, which can be found on recently-launched Malnutrition Task Force website – this includes a comprehensive information hub and a nutrition checklist.
Andrew Kitchenham, Deputy Head of Department, Creative Technology Department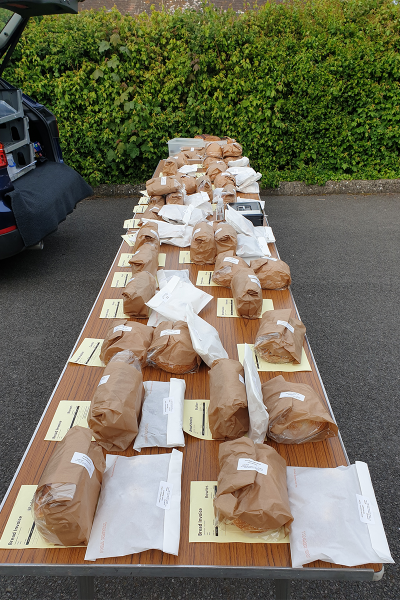 My partner and I used to run a bakery ten years ago, so we thought we'd put our skills and professional oven to the test during lockdown. We live in a rural village, with lots of older people who were self-isolating so we wanted to see if we could provide a little bit of food happiness each week; at the outset we thought we might make 20 loaves a week.
However, the response has been amazing… we now have over 100 people who have joined the bread club – and we're baking over 120 loaves on a Saturday, along with over 100 cakes, buns and chocolate brownies. Our village has a real sweet tooth, although last weekend we made 36 Wild Garlic Sourdough loaves, with wild garlic from people's gardens, that have been a real hit!
We wrap all the bread at home and label it with people's names, then take it to our village hall carpark, and people come along between 6pm and 7pm to collect the bread. We observe strict social distancing, and people simply collect their products and put an envelope with money in the tin.
We're  great believers that good food can really raise people's mood, and from the response we have had over the last six weeks, our fellow villagers are now very much reaping the benefits of our efforts and staying happy. The villagers have been really supportive and it's generated a really lovely sense of community. We start at 4.30am on Saturdays…. and give ourselves a well-deserved lie in on Sundays to recover!
Ian Davis, Head of Music
Our final choir rehearsal on campus took place a couple of weeks before lockdown and we really wanted to find a way to continue.  Fortunately, my wife Natalie – who is also University Music's choir accompanist – has some past experience of teaching music technology so she managed to move us to a fairly simple online presence, using Zoom. Natalie has since worked tirelessly to improve the offering and we have weekly sessions which are fully interactive, supported by a range of online resources which our singers can use throughout the week in preparation. 
We've had some very kind feedback from those who join us every week. Nearly everyone has highlighted the way in which meeting for choir at the regular time each on a Thursday evening – and preparing for it during the week – gives a sense of normality. The social impact has also been much appreciated – we always leave time for a good old chat amongst the participants. 
Our Chamber Choir (our auditioned student only choir) is also rehearsing online each week and we're working to produce a virtual performance of some wonderful music via YouTube over the next few weeks.​ A number of alumni members are also joining us now we're online. Last week's Chamber Choir rehearsal included participants in Bulgaria, Ireland and Singapore all singing together. Again, there's a wonderful social element to these sessions. 
Once things get back to normal we're intending to keep virtual rehearsals going so that alumni can practice each week and then join us in person for performances. So new possibilities have developed...
Whilst the campus is closed, the Music Department have moved their services online. Please find out more on the BU website.
Kim Vine, Financial Operations Administrator, Faculty of Health and Social Sciences
When Boris Johnson put out a plea for volunteers to help the NHS, I saw this as my opportunity to do something to help in this terrible situation and  jumped at the chance to do my bit. 
After making some enquires I decided to register with the Royal Voluntary Service and chose what I could help with. There were various choices including taking medically fit patients home from hospital, shopping or collecting medication for vulnerable/those isolating, delivering essential equipment or medicines between NHS site or speaking on the phone to those in isolation or who are vulnerable.
After looking at all the options, I decided to volunteer for the Check-in and Chat service, which offers an ear to those who are self-isolating, or to those who are struggling with all of the issues which surround our current circumstances. I could choose when I was available which fitted in with working and home life, plus I wasn't putting myself at any risk to my health.  They had to do some checks, including a DBS (Disclosure and Barring Service), so it took about a week but I was delighted when I was accepted.
The Voluntary Service give guidance on what to expect on the phone calls and also suggested questions that I could ask, so I had prepared myself as best as I could. I was very nervous when I made my first call , but it was just like talking to a friend; the call started off by being a bit sad, but ended with us laughing and all I did was listen and take an interest. It's still very early days, but since that first call, I've spoken to a few more people and I find it so rewarding; I really feel I've done my bit to help simply by lending an ear.
Amy Walker, Placement Development Advisor
I live in Hastings Old Town, a really beautiful place with, it turns out, a lot of older residents who are shielding from Covid-19. I've always worked remotely for BU, so once the students on placement seemed more stable, I felt I could give more time to the community as I didn't have to adjust to working from home. 
 In early March, Harry, 11, and I went door to door (with gloves on) putting postcards through the doors of our neighbouring three streets, inviting them to join a WhatsApp group so we could look out for each other, as a lockdown seemed imminent. ​ 
 We went from knowing six neighbouring families, (and only knowing two of those beyond hello), to being part of a lively group of 34 households. Phil is over 70 and records a song on his ukelele that he posts in the group each morning. Liz is shielding alone with her dog, and when she posted a picture of her homemade bra mask, the group provided her with more reliable, if less exciting, options. Harry has walked Angela's ancient pugs for her when she hurt her leg, Brendan from the B&B gave my husband some excellent homemade marmalade for his birthday, and, thanks to posted photos and shared banter, we now all feel more part of the community. 
 On VE day we had socially distanced drinks in our street, I suggested we wore red, white, blue or 1940s dress. A friend who had lost her father to Covid-19 two weeks earlier said it made her feel normal again. We had a laugh but we didn't conga. Chris's mum Stella, who is shielding, looked out over us from her room. Alan, 86, told us about being 12 on VE day and having to move out of his house in Wapping with his sisters when it was bombed.
 Since the lockdown, I've volunteered through the GoodSAM app and also joined HEART, a local voluntary group in Hastings. I also run Media Parents, a jobsite for flexible work in TV. TV freelancers are under threat at the moment so I started running online events and CV masterclasses as a support mechanism, which I've now also done for ScreenSkills and ITV. I think it's important for the TV community to visibly stick together at this point to stop talent leaving, so we are lucky that this is easy to do online, covering the whole of the UK.
 Whilst I feel I've worked harder than ever to support students through uncertain times, the MHFA (Mental Health First Aid)  training I had from BU last year has really helped me to support other people - students, people in TV and in our local community. Because Hastings is an outlying community it's likely we will have the disease in our community for longer, and until there is a vaccine, or a cure, the threat to our older, shielding residents will be as deadly as ever. I'm really grateful for our strong community spirit, and the positives that this disease has brought, from local communities, to industries, to working environments. And Harry said it felt good to help our neighbours.
If you'd like to contribute your stories and any pictures you may have - or perhaps there's an unsung hero in our midst that you think deserves a mention – please get in touch by emailing internalcomms@bournemouth.ac.uk.