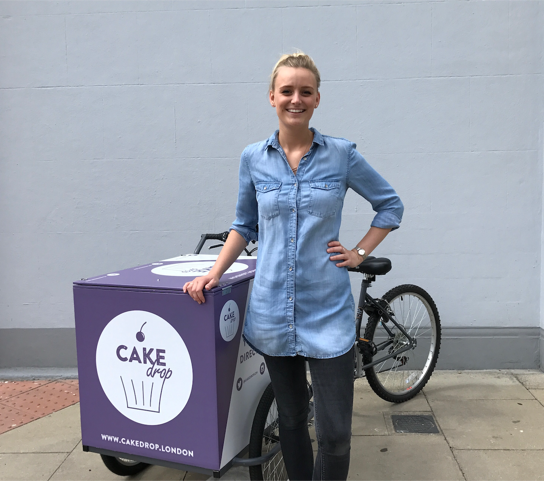 Have you ever made a last minute dash to the corner shop to buy cake for a colleague's birthday? Or, worse still, got it in the neck for failing to bring your own cake into the office on the big day?
For Bournemouth University alumna, Anna Ward, these awkward moments provided the inspiration for a new business, which launched this summer.
CakeDrop is designed to combat 'Colin the Caterpillar syndrome' (same cake for every event) and to connect office workers with independent bakeries around London. The business enables office teams to schedule cake deliveries in advance, via an online platform.
Anna said: "The idea for the business came to me from working in offices and simply recognising the need. No matter how often birthdays come around, they never seem to be well organised. Some are only just remembered and others forgotten altogether.
"Then there's the typical serving of supermarket, mass-produced cake, which is crazy when London is home to some of the best bakeries in the world. That sparked the idea to help offices become more organised and connect them with the best cakes our city has to offer."
Anna graduated from BU in 2013 with a BA (Hons) in Marketing. During her degree she completed a work placement within the marketing department of a big corporation, which further cemented her desire to start her own business. She recalls: "I have always been someone with lots of ideas, and when I have them I want to follow them through. You can't do that easily in a bigger organisation, and there is always an element of leaving others to do the things that you really want to do yourself."
The practical focus of Anna's degree proved useful when it came to launching CakeDrop. She said: "The course had a huge element of practical and real-life project work. This included pitching to businesses like Argos, re-branding local companies and writing marketing plans for real organisations. That really set me up well. When people ask me about my course I describe it as a perfect mix of business studies, economics, psychology, and media.
"The course also gave me basic finance skills and most importantly presentation skills. We did a whole load of presentations throughout the three years, and with the year placement, I wasn't short on experience by the time I went into the workplace. BU set me up really well for the workplace, and plenty of content from my course has proved useful for CakeDrop. Although it's fair to say that nothing will ever fully prepare you for taking the plunge and going it alone."
While the business is still in its early stages, Anna is already relishing the independence that being an entrepreneur brings. She says: "When we got our first sign up, I felt more elated than I ever had done in my working life. The financial reward may have been much lower than in my former roles, but it meant so much more because it's my business."