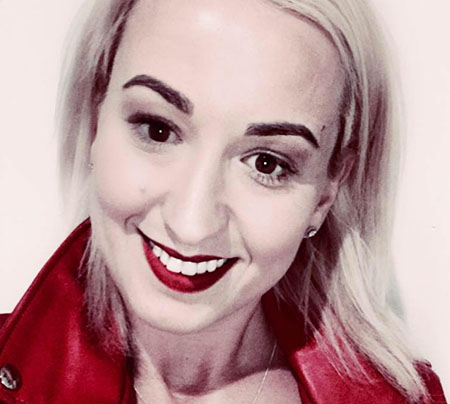 What do you get if you combine noodles, social media and a business internship? For BU marketing graduate, Ewelina Blachut, the combination has resulted in an exciting new career.
Having graduated in 2015, Ewelina became Business Development Executive for Mr Lee's Noodles, one of the South West's fastest-growing food brands. She initially joined the company on a three-month internship backed by Santander, a scheme delivered in partnership with BU for the benefit of the university's students.
The internship gave Ewelina a chance to use her social media skills to support the expansion of the business, and provided a route into full-time employment.
She said: "The internship was a great way to start my career. At the time I was unsure as to whether I wanted to join an existing company, or start my own business. Joining a new start-up proved to be the ideal solution. Having been one of the first members of the team, I feel part of the organisation's success and I have had opportunities to take on new roles and responsibilities. The company now employs 15 people and I am moving into account management as we attract a growing number of clients."
Ewelina came to England from Poland 11 years ago, and attended college to improve her English before applying to study at BU. Keen to pursue a career in marketing and communications, she was excited to be offered a place on the BA (Hons) Marketing in 2012.
She said: "The degree was challenging. I was still developing my English skills and balancing a part-time job as a carer. It helped me to build confidence and develop my understanding of all areas of marketing. It also gave me my first experience of working in a corporate environment when I did a placement year. I got to work with clients and gain new insights into SEO and email marketing. After this I fell in love with social media and started my own blog as a means of developing my skills further. "
As Ewelina approached her final year, she was introduced to the Santander/BU Internship Scheme, which provides funding to match graduates with internships in small to medium-sized enterprises. She went on to meet Mr Lee's Noodles owner, Damien Lee, at a networking event, and the rest – as they say – is history.
Damien said: "I can only say how I'm delighted to have Ewelina as a key part of our amazing, vibrant and colourful team here at Mr Lee's. When I first met Ewelina I knew she was for us and just fresh out of BU; full of new learning, enthusiasm and drive. I wanted to harness this into Mr Lee's and she has not let us down. Still shinning and glowing every day, Mr Lee's would never be the same without her. Well done Ewelina and BU for shaping Ewelina into a future leader."