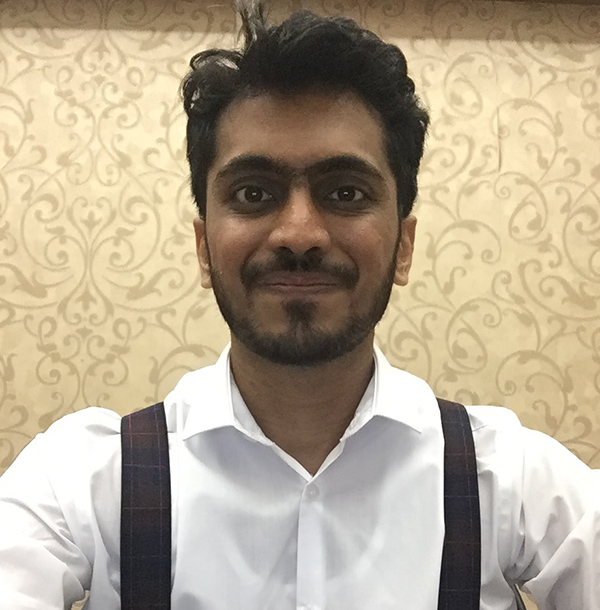 BU alumnus, Vatsal Shah, is the founder of Digital Samurai, which is helping businesses to build their brands via social media.
Vatsal graduated with an MA in Advertising and Marketing Communications in 2011. Having completed his undergraduate degree in mass media studies at the University of Mumbai, he was attracted to Bournemouth by the opportunity to specialise in digital marketing.
He said: "I was interested in learning more about digital advertising, and BU was one of the only universities to offer this at postgraduate level. Moving to the UK to study was a big step, and it felt daunting at first. But I quickly felt at home and the course team did everything possible to help me make the most of my studies."
Having completed the course, Vatsal remained in the UK and began working for Elexu – a London-based company providing applications for internet televisions. He quickly established himself as a key member of the team and began handling the company's social media and branding. He went on to work for an organic foods company, with a base in Dorset, before returning to India to join a digital marketing agency.
Having come from a family of business owners, it wasn't long before Vatsal began to develop plans for his own enterprise. He said: "I had developed a skill set in creating social media content, which could help businesses to build their profile online and attract customers. While I enjoyed doing this as an employee, I was keen to run my own business and to be able to shape the company and the services we could offer.
"I launched Digital Samurai with a clear focus on the importance of social media content, which is as much about the words as it is about the images. Many business owners start off doing their own social media, but it isn't sustainable in the long term and we can provide the expertise and resource to ensure that it grows and makes a difference."
Today the company provides services including social media management, content production, website design, analytics and search marketing, branding, SMS and email marketing.
Vatsal recognises that being an entrepreneur isn't for everyone – but despite the long hours and challenges of getting the business established, he wouldn't change it. He said: "I love being my own boss and the flexibility this offers. You have to have a passion for what you do, but that drives you through when things are tough."
When asked about his advice for other Indian graduates, Vatsal said: "The employment market in India is tough and a degree or Master's isn't enough. Work experience can make all the difference and I would definitely recommend that students take time out to invest in building this experience."