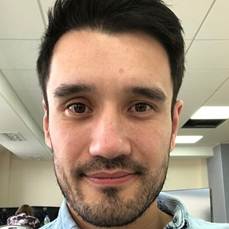 IT graduate, Pete Hill, is part of the team behind a recent start-up, helping people to generate cryptocurrency from their unused computer power.
Pete joined BU as a mature student, having spent some time travelling and working in the motorsports industry after school. He chose the Foundation Degree in Computing and Internet Technology, which at the time was delivered in partnership with Bournemouth and Poole College, to develop his skills in readiness for a career in IT.
He said: "I left school having only had about two IT lessons. In fact, I would describe myself as virtually computer illiterate. But I had a sense that a career in IT would be rewarding and I wanted to challenge myself by learning something new. When I started, I was way behind my classmates in terms of technical competency, but as soon as we got into exploring infrastructures and networks, I quickly picked up the concepts."
After two years of studying at college, Pete completed his final year at BU's Talbot Campus to achieve an honours degree. He said: "By the third year it had all clicked into place and I had the motivation and discipline to study independently and get the results I needed."
With his degree completed, Pete applied to Microsoft's graduate programme, which included placements in the States and Australia. After a tough selection process, he made it through to the final 11 candidates from an initial pool of 11,000 applications. He narrowly missed out, later realising that all of those offered a place had previously completed a placement with the company.
A chance catch up with a friend, Matt Hawkins, who turned out to be running a data centre and networks company called C4L, led to an immediate job opening. Ten years, and two incarnations of the company later, Pete had become skilled in account management, grown the company's partner channels and become Business Development Director. When Matt left to set up a new organisation – Cudo Ventures – Pete came on board as Partnership Director.
Cudo Ventures provides software, which once installed enables individuals and organisations to generate cryptocurrency from their computer downtime. The business operates on the basis that, while modern computers are incredibly powerful, much of their time is spent idling. Using appropriate software, this energy can be converted into an income stream which can be reinvested in the business or used to support charities.
Pete said: "The product is in beta mode at the moment, but we already have around 200 customers who are realising the benefits. For me, it is fantastic to be involved in the start-up phase of the business. It's an exciting time and I can really put my stamp on how things develop.
"While I had a sense that I wanted to work in IT when I began my degree, I would never have been able to predict what I would be doing 10 years down the line. Things change so quickly in IT that adaptability has to be one of the most important attributes. Technical skills will always keep moving on so you need people who can embrace change and seek out the opportunities it presents."