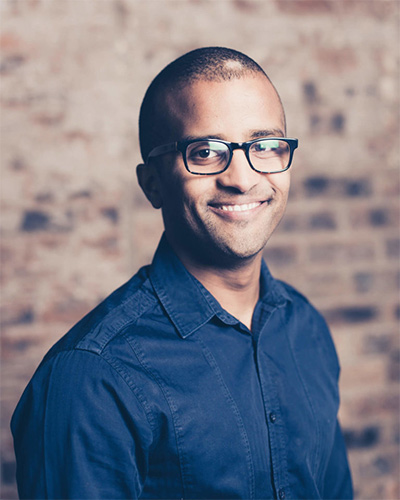 BU alumnus turned entrepreneur, Ahmed Khalifa, is helping other business owners boost their online presence with digital advice, consultancy and training.
Having completed a BA (Hons) in Sports Management at Buckinghamshire Chilterns University College (now known as Bucks New University), Ahmed furthered his studies with an MA in International Marketing Management at BU in 2008.
His original plan was to use his Masters as a springboard to a career in sports marketing. He said: "I loved my time at Bournemouth. I chose International Marketing Management because I wanted a more global outlook on marketing and to increase my awareness of different working practices and cultures. Aside from the course content, the diversity of the student body really heightened the experience. I learnt so much from my fellow students as we worked together and shared insights from our own backgrounds and cultures."
After graduating, Ahmed found that his natural interest was in the online world, and his Masters in marketing opened up opportunities for a career in digital marketing instead of the sports industry as he'd expected.
He began his digital marketing career by working for a small retail business with an online presence, before moving to Berlin to work for a publishing company and then taking up an agency job in Worthing. Ahmed then moved to take up a position in charge of Search Engine Optimisation (SEO) for the national footwear retailer, Schuh.
Following a number of years working for others, Ahmed decided to go it alone with his own company providing marketing advice and support for small businesses using WordPress. IgniteRock launched 18 months ago and provides digital coaching, training and consultancy for entrepreneurs, freelancers and "side-preneurs" – those building their business on the side of an existing career.
Ahmed said: "IgniteRock was started to help small businesses with WordPress sites to increase their online visibility and audience engagement so that more customers can find out what they are offering and engage with the brand. My decision to launch the business came as a result of combining my involvement with the WordPress community, my passion for WordPress itself, and also my years of experience in digital marketing. This also led to coordinating conferences and meetups for people using the CMS and I realised that I had something to offer. Launching the business has been incredibly exciting. I enjoy the flexibility and being in control. It also enables me to help others have a greater impact on their own businesses, which is rewarding."
Ahmed's advice for business owners tasked with looking after their own websites is not to be afraid to 'play around'. He said: "Tinkering with websites is the best way to get to grips with how they work. Making mistakes in the background are great learning opportunities as they can easily be undone. And when you are ready to publish the site, those experiences will put you in good stead as you also know what not to do. I also always advise that you should learn from other people. You will never get ahead without learning from those who know better than you, and there will always be someone who knows more than you, regardless of who you are.
"Now, my business is gradually growing and I have a lot of exciting plans to help reach out and help more businesses with their online presence. And that's thanks to putting everything I learnt from my Masters at Bournemouth University into practice."
Ahmed offers advice via his own site and recently contributed to a blog on WordPress tricks and tips by FitSmallBusiness.com.