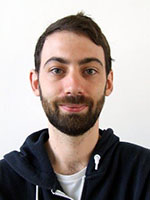 Dan Chalk's university story is proof that it pays to be persistent.
As a Senior Technical Artist for BAFTA award-winning Xbox games studio RARE, Dan is currently looking forward to the company's next major release – shared world adventure 'Sea of Thieves'.
But his dream to build a career in the computer games industry nearly came to an end after Dan dropped out of the second year of his BA (Hons) Computer Visualisation and Animation course at BU.
Dan said: "I had always enjoyed art at school and began to move from fine art into computer graphics. When I began my degree, I enjoyed the artistic side of the course, but didn't take to the computer programming. By the time it got to my second year, I decided that it wasn't the right course for me and decided to leave university. I got a part-time job at a supermarket but still spent my spare time developing computer animation. I began to realise that this was what I wanted to do as a career, and began to see the importance and relevance of programming. I spoke to my course leader and managed to get back onto the course to pick up where I had left off. I now had more motivation to work on the areas I had found difficult, and a clearer sense of how I wanted to use the skills and qualification."
Having got the second year under his belt, Dan took up a placement year with RARE, where he discovered that the programming he had struggled with at first, turned out to be a key part of his dream job. He said: "During the placement, I was working on characters for Kinect Sports and programming to develop content for the studio's artists. I loved it and by the end of the placement I was offered the chance to return as a full-time member of staff once I had finished my degree."
Now Dan is enjoying life as part of a leading games studio. Last year he had the opportunity to attend E3 – a major electronic entertainment expo in Los Angeles – and this year sees the release of 'Sea of Thieves', following just over three years in development.
Dan said: "If I wasn't doing this as a job, I would still be doing it in my spare time, so to get paid for something you enjoy is amazing. Looking back on the last few years, my advice to others would be to take the time to explore what a future career looks like, and the skills which different roles require. If you understand why you are studying something, it is so much more motivating and can give you the push to challenge yourself."