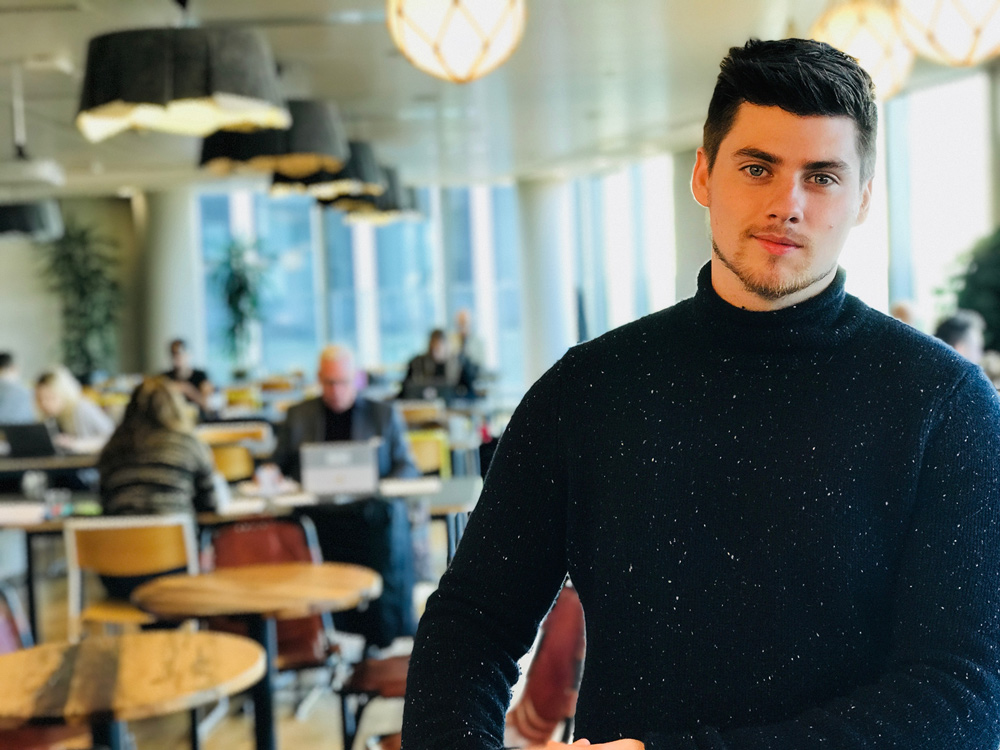 Three BU alumni are offering Londoners the inside track on the capital's venues with an app loaded with video content.
BA (Hons) Business Studies is now called BA (Hons) Business and Management.
Adam Beveridge (pictured), Arun Thangavel and Joshua D'Acres-Hylton, launched Hollabox to help customers explore the city's clubs, pubs and restaurants without setting foot inside. The app uses the concept of review-style websites to create a more immersive experience, by enabling users to view film footage of a venue before making their booking.
It's an idea the entrepreneurial trio developed while studying at BU. Adam, who completed a BA (Hons) Business Studies in 2015, said: "Socialising is a big part of the university experience and this sparked the idea for the app. When you move to a new town you want to make the most of your nights out, but the information you get about venues is not always the most transparent and those essay style review sites aren't user-friendly.
"With Hollabox we wanted to help people maximise their time and experiences by using video to virtually put them inside the venue. Video is the medium we predominantly use to entertain ourselves, through sites like Youtube and Netflix, as well as to communicate via tools like Skype and Snapchat. We felt that if we use video to educate and make purchase decisions, why shouldn't we use it to discover new experiences and make decisions about social activities."
Although Adam has recently written a blog on the "5 things you didn't learn at university about your start-up", he acknowledges that a degree can help develop core enterprise skills, as well as a wider skill set in management, marketing and finance. He said: "There is a debate about whether a university education is of value for someone wanting to start their own business. I always knew I wanted to run my own business, but I still wanted a degree. I was attracted to the business course at Bournemouth because it had a good reputation and I knew it would give me a good grounding, together with the opportunity for a placement year.
"I don't think you can teach someone to be an entrepreneur – you either have it or you don't – but it's up to you how to nurture those intrinsic qualities. Being at university helped me to determine the sort of business that I wanted to run and made me into a more well-rounded individual. Plus, if my business came crashing down around me, I knew I would have a degree from a good university which would help me to get a job."
Despite being set on running his own business, Adam chose to do his placement year at a major corporate. He joined GlaxoSmithKline's brand team, before requesting a move mid-way through the year to gain experience in the company's sales and finance department. He said: "I wanted to know how a successful company operated, and to develop skills that didn't come naturally to me. Few interns would switch department part-way through a placement, but it helped me get more out of the experience."
Adam, Arun and Joshua have recently celebrated securing investment from Just Eat, which came with the chance to join a 12-week business development programme. The funding has given the team a boost which will enable them to take their business to the next level. Adam said: "To know that a billion dollar company believes in what we are doing is amazing. Running a business is extremely hard work. You work all the hours and still won't be earning as much as your graduate mates in the short term. There are certainly low points, but the highs mean so much more and I am happy to be doing something that I am so passionate about every day."