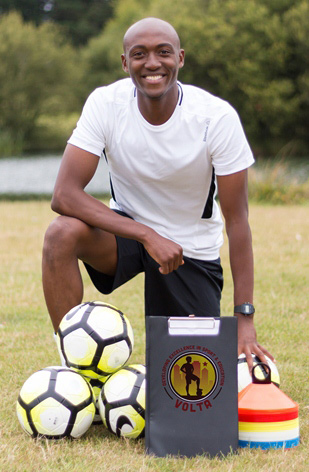 Two BU alumni are using their passion for sport to create a brighter future for Ghanaian schoolchildren.
Ekow Elliott (pictured left) and Beng'yela Ngwa, who met while studying at Bournemouth, launched Volta Sports, along with Ekow's brother, Kobina, to help raise the ambitions of young people.
The organisation has two strands. In the first, the trio work with the elite schools sector in Ghana, to provide coaching and mentoring packages which develop pupils' sports, teamwork and leadership skills. The income from this work supports the second strand, which offers disadvantaged children the opportunity to join a soccer programme combined with homework clubs and other educational support.
Ekow said: "I was born in the UK but my family is Ghanaian and I wanted to use my interest and experience in sports and coaching to have a positive impact on the lives of the country's young people. The work is massively rewarding. I have always played sport and probably taken for granted the opportunities it brings in terms of building your confidence and channelling your energies. Having benefited from it myself, it's great to see the impact it has on other young people, particularly those who are struggling to engage in education because of challenging home lives."
Ekow studied a BSc (Hons) Sports Psychology and Coaching Sciences at Bournemouth and furthered his studies with an MRES in Sport. Volta Sports co-founder, Beng'yela, completed an MSc in Marketing Management.
Ekow said: "I chose the course at Bournemouth because I had always been involved in sport and felt it would open up career opportunities. The course gave me access to the latest knowledge and insights, which I found really empowering. It was exciting to know that what you were researching and writing about could have a significant impact on the future of sportspeople and the sports industry."
Throughout his degree, Ekow continued to develop his practical sports and coaching skills by playing football for Poole Town and Blackfield and Langley FC and coaching via youth programmes in the UK and overseas.
He said: "After graduating I knew that I wanted to continue to work in sports coaching, but I wasn't set on going it alone with a new organisation. However, by joining forces with my brother and Beng'yela, we have been able to develop an organisation which is delivering on a shared vision and passion, which is really rewarding."
Find out more at http://www.voltasports.com.