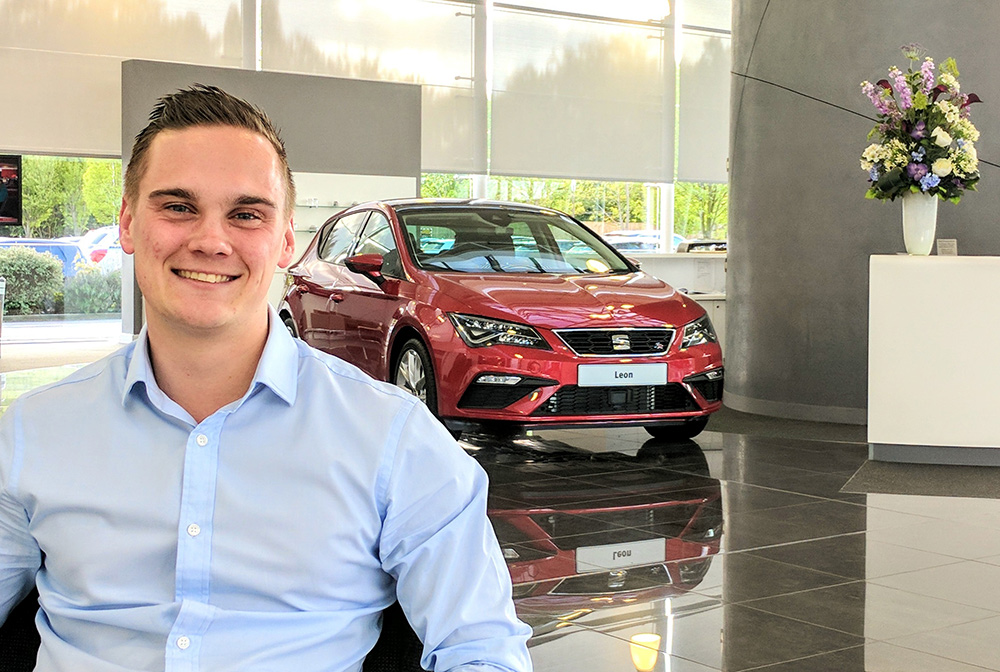 Within two years of graduating, Dan Abberley's career has taken him across Europe with one of the world's largest car manufacturers.
BA (Hons) Business Studies is now called BA (Hons) Business and Management.
Dan went straight from completing his business studies degree at Bournemouth University, to a graduate scheme with Volkswagen Group. Securing his place on the scheme was tough, with around 1,200 applicants competing for just 12 openings.
Having spent the last two years gaining experience in marketing, planning and customer quality across the group's Volkswagen, SKODA and SEAT brands, he has now joined a professional development assignment at SEAT's global factory and office near Barcelona.
He said: "Working for Volkswagen Group has been fantastic. From day one, I have always been given real work, which adds value to the performance of the business. There has been no hand-holding and I have been thrown in at the deep end from the beginning. Whilst this sounds daunting, it has been great from a development perspective and has ensured that I have gained tangible achievements from my two-year graduate scheme. Joining the international placement will give me invaluable insight for when I return to the UK to work in planning and products for SEAT."
Dan's route to his new career was shaped by his university experience, which included a year-long placement with Renault UK and an opportunity to specialise in operations and project management. He said: "Before starting university I was not exactly sure what I wanted to do. Undertaking the degree enabled me to continue learning and gaining experience, without committing to a particular industry. The structure of the business studies course allows you to explore all the different aspects of business, before choosing your specialism.
"The placement year was the biggest turning point for me. I never really expected to have a career in the automotive industry, however now I couldn't see myself in any other industry. My placement year at Renault UK sparked my interest in cars, which appealed to me because they are such a tangible product."
Dan credits his BU experience with developing key career skills, including a grasp of commercial concepts, time management and effective communication. These skills were developed on the course, as well as through additional activities such as becoming a PAL Leader (student mentor) and member of the AskBU student hub.
When asked for his top tips to help other undergraduates make the most of their university experience, Dan offers the following:
Utilise the support available at university. There are so many people who really want to ensure that you set yourself up for a fantastic career after your degree, so make the most of them
Apply early for graduate schemes. There are great placements at hundreds of companies – however, some do start the recruitment process very early on. Don't leave yourself disappointed by not being pro-active
Don't become down if you have knockbacks. It's part of the process of applying for undergraduate and graduate placements. You will end up with a fantastic job if you are persistent
Take part in as many extra-curricular activities as possible. In my graduate interview I talked more about my completion of the London Marathon and my trip driving around Europe then I did work examples. Companies place a heavy focus on the 'cultural fit' aspect, as well as your academic ability
Accept that things probably won't pan out how you expect. I thought I had a very clear view of how I wanted the four years of university to play out, as well as the graduate role I would end up in. The reality is life throws a number of curve balls. But if you're persistent and focused you will end up in a great position in either your placement year or at the end of your degree