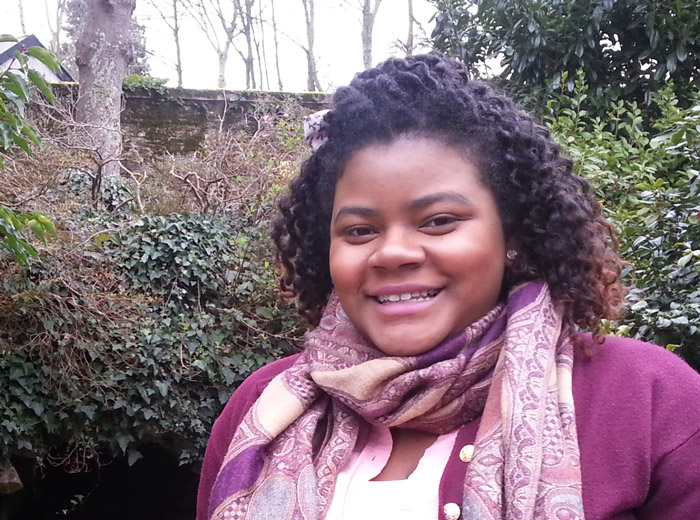 MSc Tourism Management graduate Angelique describes her experience at BU...
Bournemouth University awarded me with so much more than a Master's degree. I was awarded life-long friendships, unforgettable moments, and life-changing realisations.
BU helped me decide who I wanted to be as a person and what steps I needed to take. The atmosphere that the university creates is phenomenal. I was able to cultivate relationships with people I might not have otherwise met. I bonded with people who were 20 years my senior and also with 18-year-old Freshers, who had never lived away from their parents' home before. I was able to experience so many different cultures without even leaving campus.
There were several events throughout the year that promoted unity and diversity. I was able to sample food from Germany, get henna tattoos and learn a traditional dance from Georgia all in one night. When I wasn't exploring the cultural differences that my peers provided, I was often on excursions that BU set up. Once a month, there was a trip to a different city or town in England. It was perfect because I was able to go on these excursions with other BU students and explore Bath, Oxford and Stonehenge. It was a great way to absorb the British culture and get away from studying for a while.
BU has such a diverse demographic of students. You can learn so much from the person sitting next to you in class or on the bus. Take every opportunity to meet as many people as possible. You'll never need a hotel again!
I have had a lot of different career aspirations in my life. While one of them has stayed the same, I have definitely taken a much different path than expected after attending Bournemouth University. My plan was to go straight into a PhD programme, but meeting the different lecturers and professors at BU changed my mind. I found that the best lecturers were the ones who had industry experience to go with their book smarts. I decided that it would be beneficial to gain as much experience in hospitality as possible.
BU also led me to a career in public speaking. It was honestly something that I never expected. Up until I became a Student Ambassador, I hated the idea of speaking to a group of more than three. Giving campus tours made me extremely happy. I loved being able to share my passion for learning and my love for BU with others who could have the same experience as me. When I was given the opportunity to become a Pathway Ambassador I jumped on it. I now had the chance to spend 90 minutes with a group of people speaking about all that BU had to offer when it came to tourism courses. I blew them out of the water. I was so good that the teenagers were laughing and interacting with me. That was when I knew I had to do something different. I had such a good time speaking and interacting that I wanted to do it full time.
I came back to the US and I saw how hard it was as a Millennial. Companies wanted new hires with experience but were not willing to hire us to give us the experience we needed. The media seemed to be making it worse. We were called lazy and entitled. I don't know about you but all the Millennials I know are either working multiple jobs, in school and working, or work over 50 hours a week. Entering the workforce is tough and it's so easy to get discouraged. Not all universities are like BU and have careers teams that work with you after you graduate. I saw this as an opportunity to motivate and uplift people my age and younger. Now, I do leadership and positivity training. I'm comfortable speaking with people and in front of large groups because BU gave me the opportunity to step out of my comfort zone.
So, what career aspirations do I have now? I still want to obtain my PhD in Tourism; preferably from Bournemouth University. I want to continue gaining as much experience as possible in my field. I, also, want to continue empowering the next generation of leaders. I have Bournemouth to thank for all of these goals and I hope that you, too, can find something that you're passionate about at BU.