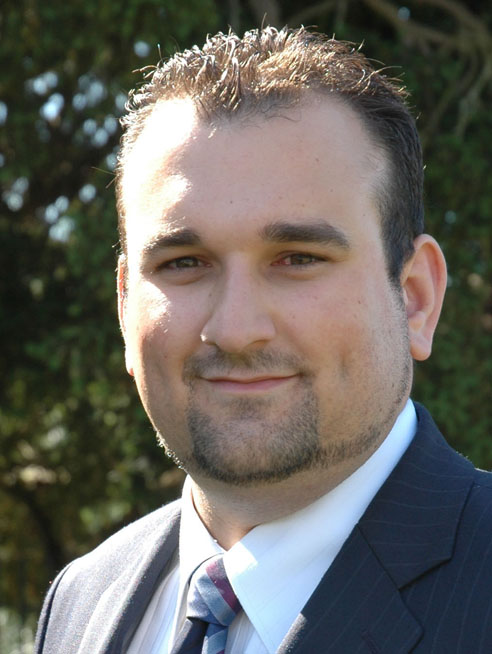 In just over ten years, Nick Cloke went from a work placement with Dorset Police, to returning as its Head of Communications & Engagement.
Along the way, the BU graduate has pioneered new communications methods, including the first 24-hour live video stream of police operations and a reputational risk assessment model that is now used across policing. He has also dealt with the media interest into numerous high-profile cases, including the murder of Milly Dowler.
As a child, Nick always wanted to become a journalist, until he realised that a career in PR meant that you could help make the news, rather than simply cover it. He decided to study the BA Hons Public Relations at Bournemouth due to the course's reputation and soon made the most of every opportunity thrown his way.
The 34-year-old, father of two, said: "When I first started at BU, I secured a new digital PR role promoting the Student Union's entertainments branch, creating the The Old Fire Station's first website and e-newsletter. I really loved this opportunity to combine my interest in music with my existing technical knowledge and new skills I was learning through study.
"Later in the course, I took up a placement as a Communications Assistant with Dorset Police and became the sole member of the team to be based in Bournemouth. It meant I could take ownership of the role and, after having the placement extended to 14 months, they took me on working 20 hours a week, while I completed my final year at university. It made for a busy final year, but it all really added to my skills and experience."
After graduating, Nick took up a full-time post as a Divisional Communications Officer for Dorset Police, before moving to Surrey Police to specialise in a media relations role, supporting major crime cases. He went on to become Head of Media Relations and then Head of Communications Strategy at Sussex Police, before returning to Dorset three years ago.
Nick's decision to work in the public sector was motivated by a desire to make a positive difference to people and communities. He said: "What really motivates me is using communications to achieve worthwhile operational outcomes for the police. Whether that's devising campaigns to stop people becoming a victim of fraud or using social media to help find a missing person, to using innovative methods to give the public a greater understanding of what the police do or helping to deliver an internal change project.
"There is also a psychological aspect to the use of communications in the police, particularly when you are running media campaigns linked to criminal investigations or persuading people to undertake long-term behavioural change.
"I would always recommend that PR graduates consider a career in the public sector. Working for the police means there is already a natural interest in what you are doing from the media, public and other stakeholders. Unlike commercial PR, you don't have to create stunts to generate media coverage because what you do is inherently newsworthy."
Now back in Dorset, Nick is combing a senior leadership role with raising a young family, and making the most of what the county has to offer. He said: "I was excited to 'complete the circle' by returning to head up the department that initially gave me a chance as a placement student. Dorset is also a great place to live and to raise children, which was one of my main personal considerations when I moved back to the county.
"I have enjoyed rediscovering the areas I first encountered while at university. In a professional capacity, I am seeking to understand how the police can best engage with the diverse local communities we see across Dorset, from large urban areas to very rural villages and coastal communities."