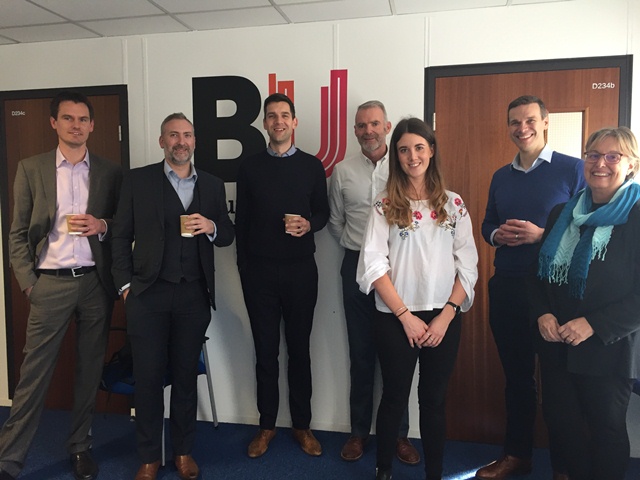 An International Hospitality Management alumnus, now working as a managing director for a major contract caterer, returned to BU to help shape the next phase of an innovative research project.
Matt Symonds (pictured second from right) is Regional Managing Director for CH&Co, which provides the catering at more than 700 locations across the UK and holds a Royal Warrant for catering services to HM Queen.
Matt, who graduated in 2001 and whose career has included managing the catering for venues including Goodwood and Wembley, visited BU to find out more about FoodSMART. This EU-funded project is an industry-academic partnership led by Bournemouth University. The project has developed an app to help caterers share allergen information and customers to make informed food choices. It is targeted at workplace catering, where staff regularly eat prepared meals with little knowledge of their ingredients or nutritional value. The project responds to links made between the rise in 'eating out' and rates of obesity.
Matt said: "I am a big fan of technology and exploring how it can be used to improve the way we work. The contract catering industry is extremely competitive, so I am always looking for something that can add value to our clients and differentiate us. I am keen to hear more about FoodSMART and explore how it could be integrated within our business such as ours.
"I am always pleased to engage with BU. There is a real skills shortage in our industry and I want to help develop the next generation of hungry ops managers. I was lucky in having opportunities to grow in my career and I want to do that for others. Working with graduates also brings welcome challenges. They ask questions which prompt us to rethink what we are doing and help us to think differently."
Professor Heather Hartwell, part of the FoodSMART project team, said: "It is excellent to work with Matt, who brings the perspective of an industry insider to the project. The relationship with CH&Co reflects the university's strengths in co-creation, by involving a Level 6 consultancy project and a final year dissertation. Both have really added to the research."