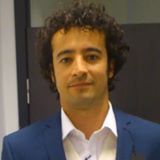 A mechanical engineering graduate is helping turn people's 'small space' dreams into reality as a design engineer for a new business start-up.
Gleisson De Oliveira has recently joined The Dorset Wagon Co. Ltd, which designs and builds bespoke showman's wagons for use by private clients and those in the hospitality and tourism sectors.
As the only engineer employed by the company, Gleisson is responsible for overseeing the design and production of each wagon. The role involves meeting with prospective clients and translating their ideas into a fully equipped, rendered model. This is used to help agree the final design and specification before the wagon goes into production.
Gleisson said: "I love what I am doing. The whole team here share such a passion for the product, which makes it a really exciting place to work. The care and attention that goes into designing and building the wagons is incredible and I feel as though I am making good use of my engineering skills and knowledge."
Gleisson started the degree at Bournemouth having studied electronic engineering at college. He said: "The first year was tough. It was a steep learning curve but I got there and managed to steadily improve my grades. During the course, I learnt how to research and write reports, how to design, test and manufacture structures – all the skills you need for a career in engineering."
Gleisson's final year engineering project was inspired by his part-time job in the cleaning industry. Gleisson went on to design and develop the TechBin – a hands-free bin which used an agile mechanism to open and close the lid. The product was designed to be used in hospitals and other clinical settings which require high levels of hygiene.